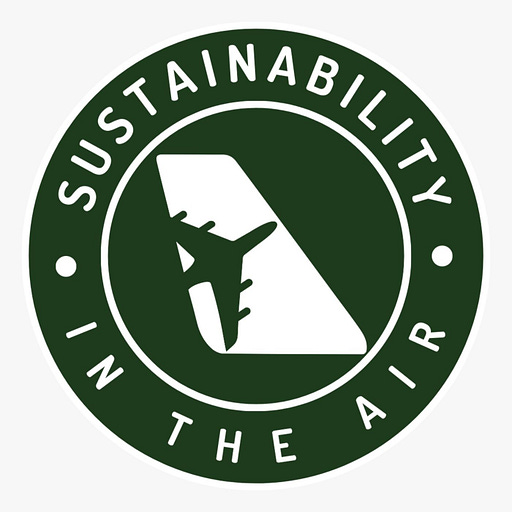 Sep 14 • 41M
How Direct Air Capture technology could ensure long-term SAF supply
In this episode, we talk to Amy Ruddock, VP Europe & Middle East at Carbon Engineering.
Every week, Shashank Nigam, the CEO of SimpliFlying, talks to airline, airport, travel and technology executives to help make sense of the many paths to net zero, for an industry that is one of the hardest to decarbonize. Whether you're a frequent flier, an airline executive or just love travelling, if you care about sustainable global travel, then welcome aboard.
In this episode of our 'Sustainability in the Air' podcast, Amy Ruddock, VP Europe and Middle East at Carbon Engineering, speaks with SimpliFlying CEO Shashank Nigam. The conversation centres around how Direct Air Capture (DAC) technology – that removes carbon dioxide directly out of the atmosphere – can help decarbonise aviation.
Ruddock trained in Physical Chemistry and Chemical Physics, following which she worked at Boston Consulting Group before joining Virgin Atlantic. At the airline, she worked on aspects of aviation, sustainability, and the airline's recapitalisation during the COVID pandemic. In 2020, Ruddock decided to focus on sustainability and joined Carbon Engineering (CE).
Here are the key highlights of the conversation:
Introduction to Carbon Engineering (3:00)

A path forward for sustainable aviation fuel (4:56)

Is direct air carbon capture economically viable? (10:42)

Partnership with Airbus (13:44)

How carbon capture credits can be applied by airlines (17:10 & 23:35)

Opportunities for synthetic fuel (25:25)

Rapid Fire! (36:28)
 Keep reading for a quick overview of the episode.
---
---
Why carbon removal matters
Based in British Columbia, Canada, Carbon Engineering wants to address the climate crisis by implementing DAC technology on a global, megaton-scale. Unlike traditional methods that capture emissions from industrial sources, DAC technology extracts CO2, the primary greenhouse gas contributing to climate change, directly from the atmosphere. This helps to counteract not only current unavoidable CO2 emissions but also the large quantities of CO2 emitted in the past that remain in the atmosphere. 
Imitates nature: The DAC technology works by drawing in atmospheric air and, through a series of chemical reactions, isolates the CO2 while releasing the remaining air back into the environment. This process is similar to photosynthesis in plants and trees but is significantly faster and requires a smaller land footprint.

Emissions are inevitable: Ruddock argues that no matter how much action aviation takes towards net-zero, flying will always emit a certain amount of CO2. Over the past 200 years, humans have increased the amount of CO2 in the atmosphere by 50%. Now, at a record high of 424 ppm (parts per million), the CO2 in our atmosphere is at a dangerous level. This necessitates technologies like carbon removal.

A viable alternative to carbon offsets: Many airlines have turned to carbon offsetting to negate emissions. However, carbon offsetting is increasingly controversial and has been disavowed publicly by a growing number of airlines such as United Airlines and easyJet. While carbon offsets only work indirectly, in carbon removal, through direct air carbon capture, CO2 is either completely eliminated or converted. "What I foresee replacing the term 'offsets' is 'removals'", Ruddock says.
5 core elements of Carbon Engineering's vision
1. Restoring the atmosphere
Carbon Engineering's DAC technology, developed over 13 years, has the potential to revolutionise decarbonisation strategies. While traditional carbon removal methods used in factories only capture emissions from production processes, such as steel manufacturing, and do not offer additional atmospheric benefits, Carbon Engineering's approach extracts CO2 directly from the atmosphere and transforms it into calcium carbonate (chalk) and water using an acid-base chemical reaction. The resulting material is then either safely stored underground or used as feedstock. 
Initiated as a pilot project in 2015 in Squamish, British Columbia, Canada, CE expanded in 2021 by establishing the Carbon Innovation Centre, where the technology continues to be refined, tested, and advanced.
2. Involving strategic partners in oil and gas
CE has partnered with 1PointFive, a subsidiary of Occidental Petroleum's Low Carbon Ventures business. 1PointFive is a Carbon Capture, Utilisation and Sequestration (CCUS) facility. The partnership has been established to "help curb the rise in global temperatures to 1.5°C by commercialising Carbon Engineering's Direct Air Capture technology alongside other CCUS solutions at an industrial scale". 
Although sceptics have criticised CE for working with petroleum companies, Ruddock says the expertise that these companies bring is essential to their strategy. CE specialises in technology development, Ruddock explains, but lacks the skill set to deploy, fund and scale mega projects. They also needed a team with the right expertise to handle carbon dioxide, transport it, and operate large chemical facilities. "So, we looked for those complementary skill sets", Ruddock says, and found that "a lot of it comes from the oil and gas sector".
CE is currently working with 1PointFive to construct the world's largest direct air carbon capture plant in the Texas Permian Basin. Expected to operate in late 2024, the plant plans to capture up to 500,000 metric tons of carbon dioxide per year, and eventually scale up to 1 million metric tons per year.  
3. Addressing the cost and feedstock challenges of SAF
A major challenge faced by sustainable aviation fuel (SAF) producers is the scarcity of feedstock, with some types, such as hydrotreated esters and fatty acids (HEFA), being not only limited but also unsustainable and harmful to biodiversity. However, the air we breathe is a virtually inexhaustible source of carbon. "Carbon dioxide from the atmosphere is going to be the future feedstock that is scalable", Ruddock says.
Additionally, carbon capture is laying the foundation for synthetic fuel sources. Power-to-liquid technologies, or synthetic fuel sources, hold great potential for sustainable aviation, although production costs are currently prohibitive. The production of synthetic fuel involves three key elements: a carbon source, hydrogen, and a fuel synthesis method. Investing in and expanding carbon capture facilities will facilitate synthetic fuel manufacturing by significantly bringing down costs, explains Ruddock. 
"Any kind of investment in removals today is bringing direct air capture down its cost curve, and reducing the cost of that carbon that will be a slipstream to synthetic fuels later."
4. Offtake agreements to signal demand
Demand signals for carbon capture technology is key to CE's scale-up. Ruddock says that confirmed offtake agreements is an important criterion that project financers look for. In 2022, Airbus made a long-term investment in 1PointFive by pre-purchasing the capture and sequestration of 100,000 tonnes of CO2 each year over four years. Big investments from companies like Airbus will help support CE's credibility to prospective clients and financers alike.
"At the heart of all of this interest is the understanding about the decarbonisation roadmap… If you don't start building the facilities today, you're not going to have the supply by 2050 to meet those residual emissions or to meet that carbon supply for synthetic fuels."
5. Looking to the Middle East
CE is relying on a significant global expansion to reach a commercially viable scale. Meeting this need will require thousands of facilities over the next few decades, Ruddock projects. Luckily, carbon can be captured anywhere, so facilities built anywhere in the world can have a global impact on the atmosphere. Ruddock says that choosing a location for a plant comes down to cost and weather conditions. The Middle East is well suited in both regards. Rudock adds that the expert knowledge base from the oil and gas industry is another reason the Middle East could be the perfect location.
"When we're looking at deploying direct air capture, we're looking for where it's most cost effective to do so. And some of the factors we're looking at are: what is the climate? Do you have storage available? Do you have renewable power available? Is it very windy, is it very sunny, etc... And that pushes you towards certain locations where it would probably be the most cost effective to deploy and that's the way that we look at the world."
---
Thanks for listening to Sustainability in the Air! Subscribe for free to receive our updates straight in your inbox.
---
'Sustainability in the Air' is the world's leading podcast dedicated to sustainable aviation. Through in-depth conversations with top aviation leaders, we break through the clutter and provide a clear roadmap for a net-zero future.
This episode of the podcast is brought to you by Travelport, a global technology leader that powers bookings for travel suppliers worldwide. Their travel retailing marketplace, Travelport+, empowers travel retailers to understand and communicate the most sustainable travel options.