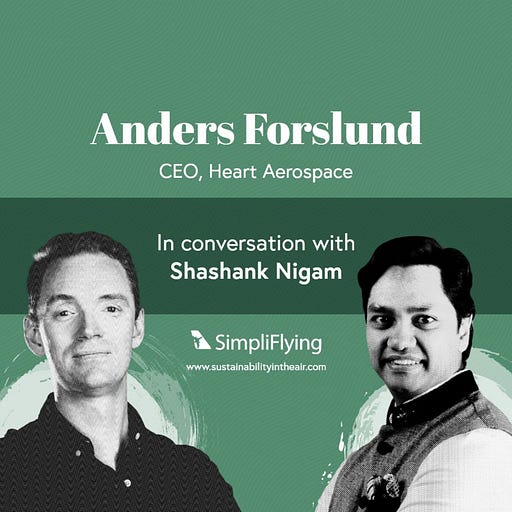 Oct 6, 2022 • 55M
Why Heart Aerospace's electric aircraft is a gamechanger
In this episode, we talk to Anders Forslund, CEO of Heart Aerospace
Every week, Shashank Nigam, the CEO of SimpliFlying, talks to airline, airport, travel and technology executives to help make sense of the many paths to net zero, for an industry that is one of the hardest to decarbonize. Whether you're a frequent flier, an airline executive or just love travelling, if you care about sustainable global travel, then welcome aboard.
Welcome to Season 2 of Sustainability in the Air, the world's first podcast dedicated to sustainable aviation. Through in depth conversations with top aviation leaders, we break through the clutter and provide a clear roadmap for a net-zero future.
---
Airplanes rely heavily on CO2 emitting fossil fuels that are detrimental to the environment and human health. With the demand for air travel outpacing improvements in low-emission sustainable fuel technology, it is essential to explore alternative technologies.
To address the industry's challenges, Heart Aerospace is working towards revolutionising aviation with its regional electric airplane, the ES-30. The 30-seater aircraft includes a reserve-hybrid configuration and is projected to operate with zero emissions and low noise. Commercial passenger flights on the ES-30 are expected to commence in 2028.
In this episode of our 'Sustainability in the Air' podcast, Heart Aerospace CEO Anders Forslund speaks with SimpliFlying CEO Shashank Nigam and discusses how regional electric air travel can transform the industry while addressing the key sustainability challenges.
You can listen and subscribe to our podcast below or read our deep-dive into the episode.
If you're rushed for time, you can also directly jump to your topic of interest by referring to these time-stamps:
A Change of Heart: From ES-19 to ES-30 (2:15)

Does hybrid solve the challenges associated with fully electric aircraft? (6:05)

ES-30: Low emission or no emission? (10:00)

Getting airlines onboard (12:35)

Meeting sustainability targets with the right tempo (14:45 & 20:20)

What about the batteries? (17:25)

Retrofitting vs building from scratch (23:45)

Charging Infrastructure: How much charge does a plane require? (27:45)

The ES-30 travel experience (30:24)

Funding required (32:15)

How will electric aviation impact smaller airports and communities? (34:30 & 40:20)

Challenges & Hopes (43:20)

Rapid Fire! (47:08)
---
A Change of Heart: ES-19 to ES-30
Forslund founded Heart Aerospace in 2018 with the aim to electrify short-haul regional aviation, and make it more accessible by creating a decentralised network of regional planes. Heart's first aircraft and its renders were designed by Forslund himself, who strongly believes in focusing on reliability, efficiency and safety. Innovating just for innovation's sake has just not been his approach.
Earlier this year, Heart chose to revise its 19-seat ES-19 aircraft design and develop a 30-seat regional airliner instead. The new design, called ES-30, will feature a reserve-hybrid configuration comprising two turbo generators that can run on sustainable aviation fuel (SAF).
The reserve-hybrid design of the ES-30, Forslund claims, is more economically profitable and logistically viable than the all-electric ES-19. The upgrades will complement the battery-system such that the aircraft may be able to support longer flights. The ES-30 will have a fully electric range of 200 km, with an extended range of 400 km on SAF. It also provides the flexibility to fly up to 800 km with 25 passengers.
Despite the major overhaul in the aircraft design, airlines' interest in Heart has not wavered. Airlines like United Airlines and Mesa Air Group, that had previously placed an order for 200 ES-19 aircraft, have affirmed their commitment to the ES-30 design. Moreover, with several airlines upgrading their letters of intent (LOI) for the ES-19, Heart has about 96 LOIs for the ES-30. The quick conversion, Forslund explains, has been possible as the airlines were a part of the design upgrade process all along. Sharing concerns about the ES-19 and being receptive to the airlines' demands also played a vital role.
"Sometimes, while talking about change, we think it's a virtue to be right from the very start. But actually, I think the real innovation is being adaptable and showing that you can actually listen. That's the journey that we've been on at Heart Aerospace."
Emissions & Noise
Electric planes have been regarded as one of the best alternatives to cut carbon emissions. The ES-30 has been designed to operate with zero emissions on its all-electric 200 km range. A 50% emissions reduction can be expected on the 400 km SAF-extended range, and emissions at par with a traditional turboprop on the 800 km cruise.
Despite the projected outcomes on the extended ranges, Forslund refrains from calling the ES-30 a low-emissions aircraft. He maintains that the aircraft design has been optimized for short routes, where it will successfully deliver its no-emissions promise. There is also a significant reduction in the nitrogen oxides emissions (NOx) and contrails, he claims.
A major concern with regional air travel is the noise and operating costs of airplanes, which severely impacts local communities. The ES-30, Forslund explains, is much quieter than any fossil-fuel aircraft with less vibration and noise, and has a silent taxi.
---
Challenges and Hopes
Forslund believes that electric technology is a simple and highly synergistic technology. Given its existing use in other industries (like the automotive sector), it's easier to build on their learnings.
However, it isn't without its challenges. Getting the technology and the aircraft certified for commercial aviation is a journey Heart is yet to embark on.
Most batteries remain inadequate to take on the task of powering long-haul aviation. Being heavy, batteries also contribute to the maximum take-off weight. There are trade-offs between battery range and charging times — an issue Heart addresses in consultation with partner airlines, Forslund asserts. With the hopes of battery technology improving significantly in the future, Heart has plans to produce a 50-seat aircraft.
In Forslund's opinion, building a company involves dealing with several challenges at once. He firmly believes in working together with his team members and partners to continue to re-invent and re-innovate, and is not afraid of scrapping old ideas to begin afresh — something he did with his original ES-19 design.
Forslund feels that aviation currently has a bit of a gatekeeping culture that shuns new entrants. He wants to overcome this barrier by being transparent and sharing his story and ideas to inspire people and give them hope about the future of aviation.
---
Our Take
Globally, aviation produces 3% of the total CO2 emissions. As the demand for air travel rises, we need to seek alternatives that are more sustainable and low on emissions. Electric aircraft offer the hope the industry needs.

Though still not viable for long-haul travel, electric planes like the ES-30 could be revolutionary in transforming the industry via no-emissions short-haul travel. Government policies and regulatory support are vital to spur the growth of an emerging technology like the ES-30. Policy trends like the European Green Deal that offer loan guarantees and funding for sustainable technologies can provide the right impetus.

Heart's commitment to adapt, improve and reinvent themselves and their candidness with their partners is commendable. Developing sustainable technologies requires continuous learning and collaborating with actors across the system.

Forslund's approach to get the ball rolling with short-term 5-year goals is a great call to action. While implementing these goals, it's important to remember that short term goals must fit well within the long-term, bigger picture of sustainability.
---
Our Sustainability in the Air podcast is powered by SimpliFlying which has been helping build trust in travel for over a decade.
This season of the podcast is brought to you by CarbonClick, leaders in managing carbon offsetting programs for top global airlines.