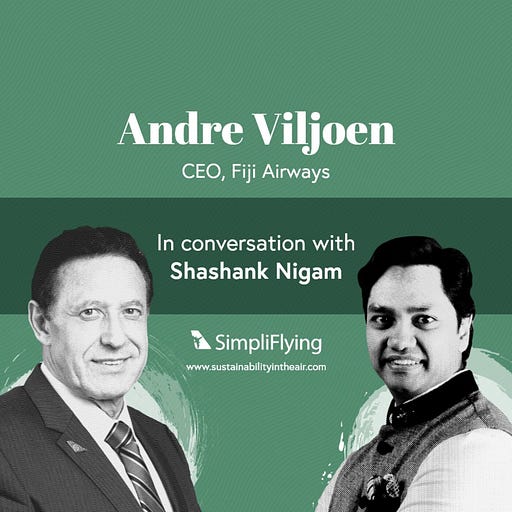 Oct 13, 2022 • 33M
How Fiji Airways is preparing for a sustainable future
In this episode, we talk to Andre Viljoen, CEO of Fiji Airways.
Every week, Shashank Nigam, the CEO of SimpliFlying, talks to airline, airport, travel and technology executives to help make sense of the many paths to net zero, for an industry that is one of the hardest to decarbonize. Whether you're a frequent flier, an airline executive or just love travelling, if you care about sustainable global travel, then welcome aboard.
Welcome to Season 2 of Sustainability in the Air, the world's first podcast dedicated to sustainable aviation. Through in-depth conversations with top aviation leaders, we break through the clutter and provide a clear roadmap for a net-zero future.
---
Fiji, an island nation in the South Pacific, has been severely impacted by climate change. Destructive waves of cyclones have wiped out entire villages, uprooting communities and derailing the nation's economy. Further, saltwater intrusion from coastal flooding has destroyed farmland, disrupted the supply of staples in the Fijian economy and forced communities to migrate to safer ground. It has been estimated that the damages sustained to Viti Levu, Fiji's most populous island, total some $52 million per year, or over 4 percent of Fiji's GDP.
Tourism is one of Fiji's largest industries. Since it contributes nearly 38% to the GDP and provides over 118,000 jobs, having a sustainability strategy for the industry is essential.
Moreover, air travel is a major contributor to the industry. As a result, the nation's flag carrier Fiji Airways takes sustainability very seriously. It defines the conservation of nature and natural resources as its underlying strategy to achieve a sustainable future.
In this episode of our 'Sustainability in the Air' podcast, Fiji Airways CEO Andre Viljoen speaks with SimpliFlying CEO, Shashank Nigam and shares how the airline's conservation programs are helping reduce the carbon footprint and preserve Fiji's natural resources.
You can listen and subscribe to our podcast below or read our deep-dive into the episode.
If you're rushed for time, you can also directly jump to your topic of interest by referring to these time-stamps:
Fiji Airways' role in dealing with climate change (2:30)

Our Ocean, Our Lives program and encouraging children to act consciously (4:25)

Taming the Carbon Footprint (10:05)

Every Take Off… One Tree program (13:20)

Does tree plantation really help? (14:25)

Fiji Airways' holistic ESG approach & Gratitude Week (15:30 & 17:20)

One World and SAF procurement (21:35)

Challenges & Hopes (22:45)

Rapid Fire! (26:25)
---
Our Ocean, Our Life – Saboo Saves The Day
Even though the airline's sustainability journey began relatively recently, Fiji Airways considers itself a role model to profess the idea of conservation. The airline undertakes a tree plantation program for each international flight and has a special program to educate children about the threats to marine life. Through its programs, the airline aims to put together a convincing case for preserving and protecting Fiji's fragile and pristine marine environment.
To tackle global warming, Fiji Airways' primary strategy has been to help children understand the severity of the global emergency and encourage them to act consciously, asserts Viljoen. Last year, the airline launched an in-flight activity pack called Our Ocean, Our Life that comprises stories for children aged 2-12 years old. The protagonist, Saboo the turtle, is joined by Fifi the flying fish, Skipper the seahorse, Starry the starfish and Okie the octopus to embark on a quest to save the coral rich waters surrounding Fiji's 330 islands. By educating the young about the practices of mangrove reforestation, reduced plastic use, and the 3Rs of Reuse, Reduce and Recycle, the five sea creatures inspire them to conserve and protect marine life.
Our Ocean, Our Life is an extension of the Fiji Airways' "Every Take Off… One Tree" project with Fiji's Department of Forestry, under which the airline plants a tree for each international take-off. To date, over 50,000 mangroves have been planted.
---
Sustainability can be fun
Fiji Airways recognises that it's important for people to immerse themselves in nature to understand its importance and the need to conserve it. Hence, the airline has extended the Our Ocean, Our Life programme by establishing an eco-tour that lets travellers experience a day planting mangroves and exploring a turtle breeding sanctuary.
Travellers are picked up in a vehicle and head to a mangrove rehabilitation site where they can get their hands dirty planting mangrove seedlings. These coastal trees are sometimes called the unsung heroes of the environment. They can sequester four times more carbon than rainforests, creating a biodiverse ecosystem for fish, crustaceans and a host of other marine species. A portion of profits is used to pay local village partners for harvesting a sustainable supply of mangrove seedlings.
Taming the Carbon Footprint
In addition to their marine conservation initiatives, Fiji Airways has also undertaken measures to cut its carbon footprint. Viljoen lists the three major steps the airline has taken to ensure significant emissions reduction:
New generation fuel-efficient aircraft: Fiji Airways has two Airbus A350 and five Boeing 737 MAX aircraft that consume nearly 20-25% less fuel compared to the previous generation aircraft. By preferring the A350 over an A330, the airline burns 10 tonnes less fuel on a return flight from Fiji to Los Angeles.

Fuel management software: Fuel usage and carbon dioxide emissions are tracked using Skybreathe. The software allows the airline to optimise fuel usage by identifying instances of excess fuel usage and recommends corrective actions.

Efficient flight planning: Viljoen states that Fiji Airways minimises fuel burn by efficiently planning flight paths to ensure a straight and direct route between destinations as much as possible.
As an associate member of the One World Alliance, Fiji Airways is also part of the alliance's joint-procurement program on sustainable aviation fuels (SAF). Viljoen explains that as a small airline, Fiji Airways can't necessarily contribute to SAF's research and development, but the airline will benefit immensely from the collaborative effort of the alliance when the program reaches fruition.
---
Challenges to sustainability
The COVID-19 pandemic has not been easy on the aviation industry. Despite the slowdown, airlines' robustness and resilience to bounce back has given the industry quite a bit of hope, says Viljoen. The comeback has fostered cooperation and collaboration across the industry, which can be the necessary foundation for a sustainable future.
In Viljoen's opinion, the biggest challenge aviation faces is the production and procurement of SAF. Until SAF becomes a financially viable option, transitioning towards sustainable air travel might be quite difficult.
---
Our Take
A sustainable future requires us to think of ways that can significantly lower CO2 emissions. The go-to solution across the world for corporations, NGOs and governments has been tree-planting campaigns. Not only do trees absorb CO2, they support wildlife and human sustenance. With such benefits, the solution could be a massive win-win. Scientists, however, question the efficacy of such initiatives and state that the glitz and simplicity of the solution hides its harsh reality — tree plantation campaigns are rarely successful.

While planting trees is a noble, well-intentioned act, mass plantations can be counter-intuitive. In Season 1 of our podcast, United Airlines CEO Scott Kirby described it as an inadequate solution which wouldn't suffice even if every square inch of the planet was utilised to plant trees. In addition to Kirby's criticisms, such campaigns would take too long to have any significant effect. They are also known to trigger and catalyse deforestation and exacerbate habitat destruction by introducing invasive species.

More than plunging headlong into a chaotic tree planting spree, we need to preserve the resources we have at hand. While tree planting isn't always accompanied with unintended consequences, improperly planned projects are unlikely to succeed, causing a tremendous waste of resources.

Fiji Airways plants mangroves to cut CO2 emissions. As natural carbon sinks, mangroves can counteract coastal degradation but their restoration is complex and must be undertaken with care. For a problem as intricate and large-scale as climate change, tree plantation and raising awareness are the tip of the iceberg.

While planting trees as a catchall solution may be questionable, it's worth highlighting a different project that has tried to fix the inherent issues with such endeavours. Etihad, too, promises to plant mangroves to reduce its carbon impact. According to the project: "the Etihad Mangroves Forest site has been chosen specifically due to its protected status under the Environment Agency – Abu Dhabi, which guarantees its ability to remove carbon from the atmosphere for at least 100-years. Moreover, through the platform's app, investors can "chat" with their chatbot enabled tree, while also being able to track every tree with satellite maps and access data, including CO2 consumption metrics which can be tracked and offset against emissions." (Listen to our episode with Etihad's CEO Tony Douglas here.)

As the earth's temperature continues to rise, the devastating outcomes of climate change are becoming a worrying reality. While we face these threats globally, the effects are far more pronounced in some parts of the world. The rising sea levels, coastal floods and erosion, and cyclones make small island nations such as Fiji the most vulnerable.

We need solutions that are more robust, and pragmatic, and produce significant emissions reduction as quickly as possible.
---
Our Sustainability in the Air podcast is powered by SimpliFlying which has been helping build trust in travel for over a decade.
This season of the podcast is brought to you by CarbonClick, leaders in managing carbon offsetting programs for top global airlines.