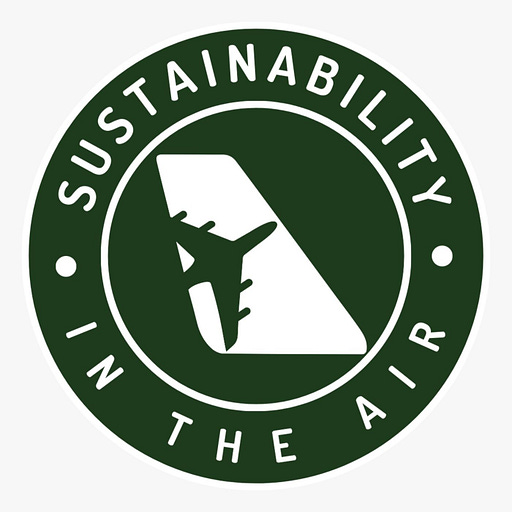 Jul 13 • 48M
Why Widerøe Zero sees regional aviation as the pathway to airline sustainability
In this episode, we talk to Andreas Kollbye Aks, CEO of Widerøe Zero.
Every week, Shashank Nigam, the CEO of SimpliFlying, talks to airline, airport, travel and technology executives to help make sense of the many paths to net zero, for an industry that is one of the hardest to decarbonize. Whether you're a frequent flier, an airline executive or just love travelling, if you care about sustainable global travel, then welcome aboard.
In this episode of our 'Sustainability in the Air' podcast, Andreas Kollbye Aks, CEO of Widerøe Zero, speaks with SimpliFlying CEO Shashank Nigam, and shares the company's ambitious plan for decarbonizing aviation. He explains how Widerøe Zero is pushing boundaries of technological advancements and shaping the future of sustainable aviation through a collaborative and customer-centric approach.
Bringing Widerøe Zero to reality (2:21)

Setting up the Air Mobility Lab (6:26)

Expanding Norway's eVTOL network (16:42)

How far along is the development of zero-emission technology (21:11)

Is hydrogen a viable option for long-distance flights (26:01)

The cost of producing SAF (28:20)

Retrofitting existing fleets to work with hydrogen (36:11)

Rapid fire (42:00)
Keep reading for a quick overview of the episode.
---
---
Widerøe Zero has been set up as a consultancy-cum-incubator that seeks to shed the baggage of legacy aviation and usher in a green future. The company aims to tackle the regulatory, commercial and financing challenges involved in purchasing and operating an entirely new class of aircraft.
Why Regional Aviation Can Be A Testbed for Decarbonizing Aviation
Widerøe Zero has strategically chosen regional aviation as its primary focus. The reasoning behind this is rooted in the nature of Norway's geography, which necessitates short-haul flights. Given the maturity of zero-emission technology, these regional routes can serve as a live laboratory for testing, implementing, and refining new aviation technology, while contributing to global sustainability.
"I think over the last two years, we've gotten a much clearer view on what is achievable near term, medium term, long term, and with different aircraft sizes. And to me, it seems like quite a lot is possible. Now the question is about how we can make this commercially viable by a combination of customer willingness to pay plus political stimulus."
Widerøe Zero's 5 Pathways to Decarbonisation
1. Why electric aircraft are suited to shorter, regional routes
Aks strongly believes in the future of electric aircraft, particularly for shorter regional routes in Norway. In his view, the advancements in electric aviation technology combined with the demand for regional connectivity offer a unique opportunity for the introduction and mainstreaming of electric aircraft for short-haul travel.
Given the maturity of current battery technology, electric aircraft have a limited range of travel and carrying capacity. Nearly 74% of Widerøe's domestic flights cover a distance of less than 300 kilometres, making these routes an excellent testbed for new aircraft like eVTOLs (electric vertical take-off and landing aircraft). Norway's plan to electrify domestic flights by 2040 acts as a further impetus.
"When we talk about hydrogen-electric concepts, all electric concepts, their range is limited. So we thought, okay, maybe we have a role to play, and maybe we should try to fulfil that role. It was this combination of political push, expectations from society, but also the fact that we have a network of airfields in Norway, which is ideal for first generation, zero emissions aircraft."
2. The importance of a customer-centric approach
Aks emphasizes the importance of passengers in the decarbonization process. He believes that any technological shift in aviation must be guided by a customer-centric approach, ensuring that the new technologies not only reduce emissions but also meet passenger needs and expectations. 
Since Widerøe Zero is focused largely on new aircraft technology, researching customer needs is essential to deliver optimal service. The company plans to launch four Air Mobility Labs in Norway to understand customer journeys. The labs will help explore the potential of zero-emissions aircraft and eVTOLs in the region by pre-introducing them to the customers.
"You can't really just send out a questionnaire and ask people about things they don't have a clue about, because they can't relate… [Through the Air Mobility Lab], we're preparing the community for what may be the future for them. And I think that's also a very often underestimated barrier, that you actually need to first build public awareness and acceptance before you can successfully introduce a new service."
3. Hydrogen's potential as the energy carrier of the future
As a high energy-density fuel, hydrogen has the potential to replace traditional jet fuels, offering a path to zero-emission flights. However, the technology is still very nascent, and using it requires hefty infrastructural investments and aircraft upgrades. 
Aks emphasises the role of hydrogen in decarbonising aviation. He points out that while liquid hydrogen has extensive requirements, its gaseous form is easier to use and suited for short-haul travel. Liquid hydrogen, on the other hand, is more likely to meet the demands of long-haul routes. Moreover, shorter regional routes could also serve as a great platform to test hydrogen technology, the lessons from which could then be extended for longer flight distances, he adds.
"We really want to introduce a hydrogen electric aircraft as soon as possible, even if it's not liquid, just to start to learn how to deal with hydrogen."
4. The challenges with Sustainable Aviation Fuel (SAF)
Despite the current buzz around SAF, Aks remains sceptical about its projected benefits. SAF remains in short supply and its production is energy intensive and quite costly. 
With mandates like the European Union's ReFuelEU Aviation, jet fuel suppliers and airlines are required to scale SAF uptake for all flights departing from EU airports. The mandate is set at 2% of overall fuel supplied by 2025, and will grow to 70% by 2050. This would require a significant ramping up of production, especially for medium to long-haul air travel. 
"The energy use of SAF is higher than the alternatives. We believe it makes sense to save SAF for those that cannot do anything else. And those of us that can find an alternative will benefit massively from using less energy, and perhaps also have less taxation because of an even lower environmental footprint."
5. Partnerships with OEMs and investments in future technologies
For the industry to make substantial strides towards sustainability, collaborative efforts are crucial. As an incubator for greener aviation, Widerøe Zero promotes innovations through partnerships.
Last year, the company collaborated with Embraer and Rolls-Royce for a 12-month study on a conceptual zero-emission regional aircraft.
Widerøe Zero also has a long-standing partnership with Embraer's Eve Air Mobility, with whom it has recently signed a Letter of Intent (LOI) to purchase up to 50 eVTOLs for deployment in Scandinavia. 
Widerøe Zero also helps OEMs (original equipment manufacturers) design aircraft based on customer needs by offering necessary insights right at the conceptual phase. While OEMs will bring in technical know-how, Widerøe Zero's extensive research through initiatives like the Air Mobility Labs will provide customer inputs to further refine the new technologies. 
"We're trying to be a really good partner for the OEMs that want to develop the best vehicles by offering more insights than average about the customers."
Thanks for listening to Sustainability in the Air! Subscribe for free to receive our updates straight in your inbox.
---
'Sustainability in the Air' is the world's leading podcast dedicated to sustainable aviation. Through in-depth conversations with top aviation leaders, we break through the clutter and provide a clear roadmap for a net-zero future.