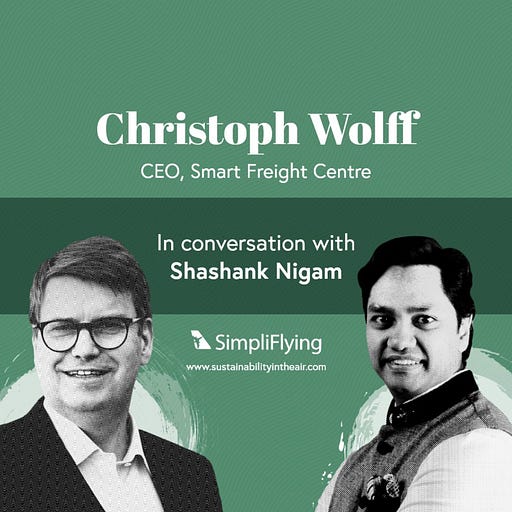 Nov 3, 2022 • 39M
The promise and challenges of the Power to Liquid (PtL) pathway for SAF
In this episode, we talk to Christoph Wolff, one of the founders of the World Economic Forum's Clean Skies for Tomorrow Coalition.
Every week, Shashank Nigam, the CEO of SimpliFlying, talks to airline, airport, travel and technology executives to help make sense of the many paths to net zero, for an industry that is one of the hardest to decarbonize. Whether you're a frequent flier, an airline executive or just love travelling, if you care about sustainable global travel, then welcome aboard.
Welcome to Season 2 of Sustainability in the Air, the world's first podcast dedicated to sustainable aviation. Through in depth conversations with top aviation leaders, we break through the clutter and provide a clear roadmap for a net-zero future.
---
In this episode of our 'Sustainability in the Air' podcast, Christoph Wolff, CEO of Smart Freight Centre, an Amsterdam-based NGO focused on sustainability in freight transport, speaks with SimpliFlying CEO Shashank Nigam.
Wolff spent eight years as Member of Executive Committee/Head of Mobility & Transport Platform of the World Economic Forum (WEF). One of his biggest contributions has been to help create the Clean Skies for Tomorrow Coalition at WEF, a multilateral initiative that is working towards making carbon-zero flying a reality by the middle of the century.  Founding members include: Airbus Group, Heathrow Airport, KLM Royal Dutch Airlines, Royal Schiphol Group, Shell, SkyNRG, SpiceJet and The Boeing Company.
You can listen and subscribe to our podcast below or read our deep-dive into the episode.
If you're rushed for time, you can also directly jump to your topic of interest by referring to these time-stamps:
The aims and origins of the Clean Skies for Tomorrow Coalition (0:56)

The most critical method to get to net-zero (6:28)

Pathways to SAF (8:08)

The potential and pitfalls of Power-to-Liquid fuel (10:39)

On the transition to electricity and geopolitical implications (13:12)

Will SAF costs come down? (22:22)

Hydrogen/Electric vs SAF for flying (24:02)

On corporate net-zero efforts (25:31)

Why India is a potentially exciting market for SAF (27:30)

Advice to airline CEOs (30:37)

Rapid fire! (32:25)
---
Clean Skies for Tomorrow
Clean Skies for Tomorrow (CST) is a coalition to help facilitate the transition to net-zero flying by accelerating the use of sustainable aviation fuels (SAF). It is a technology roadmap that depicts the four possible pathways that are most likely to enable the scaling up of SAF. It also estimates the costs, feedstocks and time needed for each of these pathways to take off. The four pathways include: hydro-processed esters and fatty acids (HEFA), alcohol-to-jet (AtJ), gasification/Fischer-Tropsch (gas/FT), and power-to-liquid (PtL).
Image Source: Clean Skies for Tomorrow, World Economic Forum
---
More power to liquid
Of the four SAF pathways, Wolff advocates Power-to-liquid (PtL) to be the most feasible in the long run. PtL production comprises renewable electricity, and water and a carbon source, that are processed as follows:
Renewable energy powers electrolysers to produce green hydrogen.

Carbon dioxide (captured through Direct Air Carbon Capture) is converted into carbon feedstock.

Carbon feedstocks are used to generate synthetic liquid hydrocarbons using green hydrogen.
Image Source: Airbus
Since PtL is produced using synthetic carbon feedstocks, it is unlikely to run into any food versus fuel competitions in future, Wolff explains. Moreover, it can leverage the existing fossil-fuel network, eliminating the need for additional infrastructure. He further adds that even though PtL is not a mature technology currently, it is likely to expand its share in aviation fuel to 60-70% by 2030 or 2035.
---
Hydrogen or SAF? The easyJet Question
Recently, easyJet released its net zero roadmap. In it, the airline detailed its "ultimate ambition to be flying on zero carbon emission hydrogen planes". Interestingly, on the question of SAF, the airline mentions it as an "interim measure", ostensibly due to the lack of supply and the associated cost. This runs counter to Wolff's bet on SAF defining the future of sustainable flying.
According to Wolff, easyJet's business model as a point-to-point airline defines its bias towards hydrogen. He believes that point-to-point traffic may have a higher bias towards hydrogen flying because it involves smaller aircraft flying shorter distances. This would be quite feasible on hydrogen or hydrogen-electric aircraft, even though it would require redesigning the aircraft to run on hydrogen. With the right support from Airbus, such an aircraft might be commercially ready by 2035. However, for airlines flying longer distances Wolff says SAF would be the only feasible option.
---
Outlook For The Global South
Interestingly, Wolff is rather bullish on the prospect of the global south's transition to clean energy. He mentions how India, for example, has been laying out aggressive plans in recent months on becoming a SAF producer. According to a 2021 McKinsey report with the Clean Skies for Tomorrow Coalition, the coalition's community in India has set the goal of flying 100 million passengers on SAFs at a 10 percent blend by 2030.
According to the report, India is particularly well positioned to have a significant impact in the area. For instance, of the more than 80 private- and public-sector organizations that make up the Coalition, around 20 are from India. In addition, India is not only "projected to go from its current position as the world's eighth-largest aviation market to third place by 2025 but also generates abundant amounts of agricultural residues (farming byproducts, such as husks and chaff), used cooking oil, and other solid waste—feedstocks used to produce SAFs. Furthermore, India enjoys the availability of low-cost renewable-energy sources and the technology to scale up deployment of SAFs."
Wolff says that global players are actively eyeing clean energy opportunities in India. For example, last month saw a Statement of Intent signed between Indian Oil and LanzaJet, for a partnership in SAF through LanzaJet's patented technology.
In addition, Wolff says ICAO studies are underway in Africa on the feasibility of SAF – across countries such as South Africa, Ethiopia, Kenya and Zambia. Further away, there was an assessment in Trinidad and Tobago. Colombia and the Dominican Republic are looking at SAF potential from waste as well. Wolff concludes that while traditionally this has been North America and European led, SAF has become a global movement and there's an opportunity to democratize in a way similar to aviation – simply because many more countries can now become producers compared to the fossil fuel age.
---
Our Take
The future of sustainable aviation rests heavily on the development of low-carbon fuels. While Wolff projects the Power-to-Liquid (PtL) trajectory of SAF as a promising alternative, he is also clear about its challenges:

1 - The production of PtL SAF is an energy intensive process. A normal PtL production plant will consume the same amount of electricity that could power nearly 2-3 million US households! This posits a huge challenge and can further the energy inequalities between countries in the Global North and South. Moreover, as Wolff himself points out, nearly 70% of the cost of SAF are actually energy costs.

2- The carbon dioxide used in production is sequestered from carbon sources (for example: steel plants or cement plants) or through direct air capture. Both these methods remain expensive, but Wolff believes that the costs are likely to come down over the next 15 to 20 years.

Both these factors add up to make PtL at least 5-8 times more expensive on a per gallon basis than kerosene. Even though new suppliers are joining various SAF initiatives, cost still remains a major concern.

Wolff however, remains optimistic that SAF will follow a trajectory similar to that of solar energy in the reduction of costs over the next decade or so. He expects that SAF is likely to become very competitive because shipping it around the globe is not costly and existing jet-fuel infrastructure can be leveraged. As a consequence, PtL and other sustainable aviation fuels are likely to be competitive with kerosene by 2035 to 2040. Wolff's stance on SAF is a sharp contrast to ZeroAvia CEO Val Miftakhov's opinion that synthetically produced SAF is impractical and likely to remain expensive.

It is often difficult to accurately predict the future of a technology in a system, especially when it has a series of associated variables. While players in the aviation industry are currently counting on SAF to save the day, its projected growth and cost trajectories should be considered with caution.
---
Our Sustainability in the Air podcast is powered by SimpliFlying which has been helping build trust in travel for over a decade.
This season of the podcast is brought to you by CarbonClick, leaders in managing carbon offsetting programs for top global airlines.