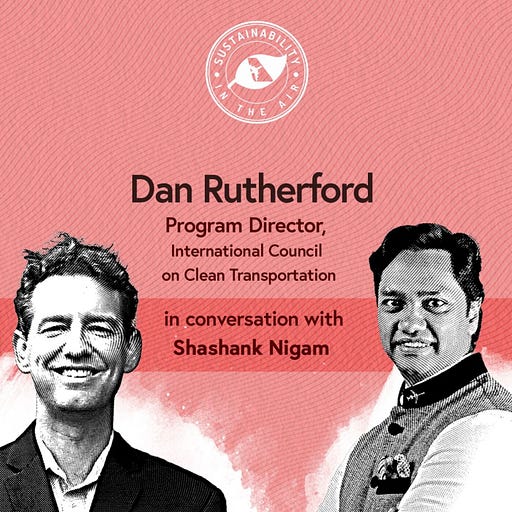 Jun 16, 2022 • 37M
Dan Rutherford on net-zero roadmaps and transitioning to sustainable technologies
In this episode, we talk to International Council on Clean Transportation's (ICCT) Program Director, Dan Rutherford.
Every week, Shashank Nigam, the CEO of SimpliFlying, talks to airline, airport, travel and technology executives to help make sense of the many paths to net zero, for an industry that is one of the hardest to decarbonize. Whether you're a frequent flier, an airline executive or just love travelling, if you care about sustainable global travel, then welcome aboard.
Sustainability in the Air is the world's first podcast dedicated to sustainable aviation. Through in depth conversations with top aviation leaders, we break through the clutter and provide a clear roadmap for a net-zero future.
---
The International Council on Clean Transportation (ICCT) is a research-based environmental non-profit comprising scientists and engineers who work closely with environmental regulators to reduce transportation emissions.
In this episode of our 'Sustainability in the Air' podcast, ICCT's Program Director, Dan Rutherford speaks with SimpliFlying CEO, Shashank Nigam, and dives deep into the future of sustainable aviation and the trajectory airlines and governments need to follow to get to net-zero emissions.
You can listen and subscribe to our podcast on all major podcast platforms or read our deep dive into the episode below.
If you're rushed for time, you can also directly jump to your topic of interest by referring to these time-stamps:
ICCT's Vision 2050 report (2:00)

Carbon tax on Jet fuel (3:40)

Sustainable Aviation Fuel - concerns & challenges (5:40)

Supersonics & SAF Economics (10:20)

Frequent Flyer tax (18:30)

Promising approaches towards sustainability (24:35 & 31:00)

Advice to CEOs (27:00)
---
Recently, ICCT published their Vision 2050 report that analyses and identifies the gaps in the various net-zero plans laid out by the aviation industry and governments. The report states that the current pace of technological development could help decarbonise aviation by 2050 and set the industry on track for a 1.75 degree temperature change. However, Rutherford states that achieving this would require emissions to peak by 2025 coupled with supporting new low-carbon fuels and airplanes.
Sustainable Aviation Fuel - concerns & challenges
Sustainable aviation fuel (SAF) is widely believed to be the most promising low-carbon solution for the aviation industry. However, transitioning to SAF from carbon-intensive jet-fuel is quite challenging given its current high prices and low supply. It is not just important to bring down SAF prices and support its growth, the usage of jet-fuel also needs to be disincentivised. Rutherford says that by introducing a jet fuel tax, governments can deter the use of jet fuel and use the revenue thus generated to subsidise new sustainable solutions.
The production of SAF from corn ethanol and soy biodiesel, Rutherford points out, is based on a similar experiment in the road transport sector. The US laws mandate fuel manufacturers to increase the percentage of these bio-feedstock based fuels in vehicles. It was hoped that the technology would mature and gradually pave the way for advanced, waste-based fuels.
This transition, Rutherford states, never really materialised and the current production of SAF is based on this very experiment. Moreover, the effect of SAF production on food security has always raised several concerns. It is believed that its increasing demand could result in reduced food supply and high prices, invariably hurting the poor and marginalised. In the EU, diverting these food crops to manufacture SAF has also been linked to higher import of palm oil from Southeast Asia. (Palm oil production in SE Asia is notorious for causing extensive deforestation and destruction of tropical rainforests.)
Supersonics
Recently, United Airlines partnered with Boom Supersonic to build a supersonic airliner that would run on 100% SAF. Having published three papers on Supersonics, Rutherford remains rather pessimistic about their viability in future. The economics of SAF with supersonic aircraft is too costly to be feasible, he states. An overture aircraft would likely burn seven times more fuel per-seat kilometer than a subsonic aircraft in 2035. This multiplied with SAF's estimated cost of about 3 times more than jet-A in the future raises the overall fuel cost by over 20 times!
United's venture with Boom could setback the airline's entire sustainability efforts and drive up emissions. It is possible, Rutherford asserts, that on the delivery of the Supersonic plane, the fuel costs would only allow it to be run on fossil jet fuel.
Advice to CEOs
Rutherford terms the sustainability challenge as a "collective action problem" that needs to be tackled using a systems approach. Airlines and governments must work together to close the price gap between SAF and conventional jet fuels. These consultations are necessary since voluntary efforts from airlines simply wouldn't suffice.
Mobilising consumers also plays a vital role in achieving the net-zero goals. With travel search engines like Google Flights and Kayak mapping out emission estimates by itinerary, consumers can make more conscious choices while planning their travel.
Our Take: Battling gimmicks with pragmatism
In Rutherford's opinion, technological advances are likely to steer aviation towards sustainability. In the past five years, there has been a wave of startups working on newer, more efficient technologies like electrification, hydrogen aircraft and sustainable fuels. This has ushered in an era of innovation that has given aviation the necessary momentum to transition to low-carbon technologies.
The flight shaming movement or flygskam was also a major contributor to catalysing the recent sustainable transition of aviation. Rutherford, however, is of the opinion that such movements, while great at drawing attention to the cause, are not feasible in the long run. Instead, giving airlines workable messages such as using more SAF or scaling-up hydrogen are more effective triggers for change.
ICCT's well-researched findings provide a pragmatic way forward for the aviation industry. The current trajectory of technology offers quite a bit of hope for meeting the net-zero goals. The regulatory environment also needs to keep up with the pace of technology in order for us to move towards a more sustainable future.
---
Our Sustainability in the Air podcast is powered by SimpliFlying which has been helping build trust in travel for over a decade.
This season of the podcast is brought to you by CarbonClick, leaders in managing carbon offsetting programs for top global airlines.