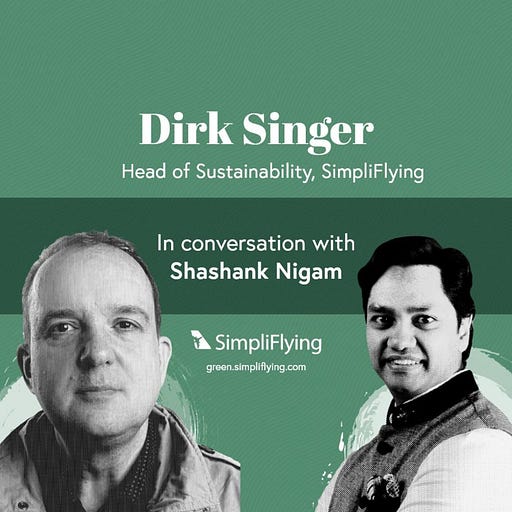 Dec 1, 2022 • 42M
Avoiding the Greenwashing trap
In this episode, we talk to Dirk Singer, Head of Sustainability at SimpliFlying.
Every week, Shashank Nigam, the CEO of SimpliFlying, talks to airline, airport, travel and technology executives to help make sense of the many paths to net zero, for an industry that is one of the hardest to decarbonize. Whether you're a frequent flier, an airline executive or just love travelling, if you care about sustainable global travel, then welcome aboard.
Welcome to Season 2 of Sustainability in the Air, the world's first podcast dedicated to sustainable aviation. Through in depth conversations with top aviation leaders, we break through the clutter and provide a clear roadmap for a net-zero future.
---
From 'Greenwashing' to 'Greenhushing' to the 'Greenconsumption' effect, one thing is clear: there is a need for sustainable practices that actually work.
In this final episode of our 'Sustainability in the Air' podcast, Dirk Singer, Head of Research and Sustainability at SimpliFlying talks about the present and future of sustainability with SimpliFlying CEO, Shashank Nigam.
You can listen and subscribe to our podcast below or read our deep-dive into the episode.
If you're rushed for time, you can also directly jump to your topic of interest by referring to these time-stamps:
1:52 Flight shaming

3:50 Climate activist tactics

4:09 The 3% argument

5:58 Why should airline executives care?

8:04 Which airlines are doing a good job and what is it that they are doing differently?

10:14 Science based targets initiative

11:45 What climate change activists really want?

14:35 Flying carbon neutral

16:00 Should airlines be concerned about lawsuits?

18:22 What is 'Green-hushing'?

19:57 Tips on how airlines can do green communications right

25:30 Communicating with climate change groups

27:52 Greenwashing sustainability masterclass

31:25 The most important audience on sustainability

33:58 Greenwashing and getting green messaging right on sustainability initiatives

34:45 Reasons to be hopeful
---
Sustainability Uncensored: the 'Green' Conversation
Never has there been such a polarised view on aviation sustainability, ranging from antagonistic to confrontational to conformist. However, airlines aren't willing to sit on their hands anymore — and that is a sure sign that change is coming, quickly.
Why is the climate conversation taking center stage now? After all, airlines haven't become carbon polluters overnight. The answer is simple: We are beginning to feel the real-world consequences of climate change.
The urgency is real and pressing. The Green concern is becoming a top priority in organisations, from airlines starting 'sustainability departments' and creating new roles to hiring experts and Senior Vice Presidents with the sole mandate to integrate sustainable practices. One constant is clear: sustainability is no longer a project or campaign but part of business-as usual.
---
Differentiating the Travel Journey by Implementing Green Initiatives
"There is copious amounts of research that more and more consumers are aware that climate change is a critical issue. Take for instance the record temperatures last summer. It is becoming real to a lot of consumers around the world now. The solutions are there: it's about cost, the incentives, and the route forward," says Dirk Singer.
Aviation companies from airlines to service providers to green fuel providers all have a challenge: provide the most impact in a meaningful, cost-effective way.
From increasing sustainable aviation fuel production, to implementing plastics-free flights, to bamboo cutlery onboard, and reducing aircraft seat weight, it is encouraging to see that aviation has finally embarked on a journey to net-zero.
Moreover, the buck stops with the consumer and business community who are increasingly persuaded to support sustainability-conscious companies.
Singer argues that an organisation will have a competitive advantage if it is able to showcase its sustainability programme and practices.
---
Do activist protests and flight shaming work?
The short answer is 'yes'
But what do climate activists really want?
They believe consumers are adopting over-consumption practices. Climate activists say there's too much consumption, accumulation and waste. They argue that the solution is to cut down consumption and demand. Aviation is viewed as a major culprit. They see aviation encouraging excessive and needless flying.

They don't believe that the industry is serious. Activists say aviation promotes consumerism and wanderlust and most sustainability initiatives are an eyewash.
Flight-shaming, the practice of ridiculing a person for taking a flight, is having an impact as well. Some organisations are now debating the necessity for business travel — not just to reduce costs but because of the carbon impact as well.
We are seeing a shift in the private travel space as well. High net-worth individuals are doing away with their private jets altogether because of the pressures of social media coupled with eagle-hawking flight apps which display their journey decisions to the world.
"You're communicating with a wider public which wants to know that you are taking their sustainability concerns seriously and that you are taking the concerns of these groups that are representing them seriously, as well"
Greenwashing versus Greenhushing: What is the difference?
Greenwashing and Greenhushing are at two ends of one spectrum:
The former refers to over-talking or exaggerating the impact of what a company is doing to be sustainable.
Green-hushing is when a company does not publicly talk about their sustainability initiatives in the fear of being shamed or deemed boastful.
Both are counter-productive. The ideal approach is to be truthful and transparent. The right messaging matters. On the one hand, by saying nothing, you lose the chance to tell your story. And on the other hand, by saying it too loud, criticism is courted.
---
Our Take
In sustainability, the medium is the message. The key learning is that there is no one way to be more sustainable. Choose what works for your organisation, build a plan, incorporate it throughout the company ethos and accelerate at a consistent pace.

What an organization is doing is the opportunity here. The message is really about telling the world about what is happening, in simple, straightforward, matter-of-fact terms. The storytelling and overall communication about the sustainability program is the opportunity.

Crafting that story well and making it meaningful to the consumer is crucial.

Scrutiny from activist groups and the media is here to stay. Media training on sustainability is key to sharing that story with the world. When it comes to issues that have a large-scale impact, the world wants to hear from the leadership.

The sustainability conversation is urgent and essential. Senior executives need to have a reasonable amount of knowledge about the subject. Consider a simple analogy: a CEO of a sporting company would need to be fairly knowledgeable about the activity and everything that surrounds it: climate, topography, attire, etc. Similarly, CEOs at airlines need to expand their knowledge to include sustainability as well.

There are 'green chutes' emerging and we can expect the journey to net zero to balance environmental benefits with economic growth.

What makes us hopeful is that there are innovative, bold practices being implemented by airlines, green fuel providers and aircraft manufacturers. And this will only accelerate in the years to come.
---
Our Sustainability in the Air podcast is powered by SimpliFlying which has been helping build trust in travel for over a decade.
This season of the podcast is brought to you by CarbonClick, leaders in managing carbon offsetting programs for top global airlines.