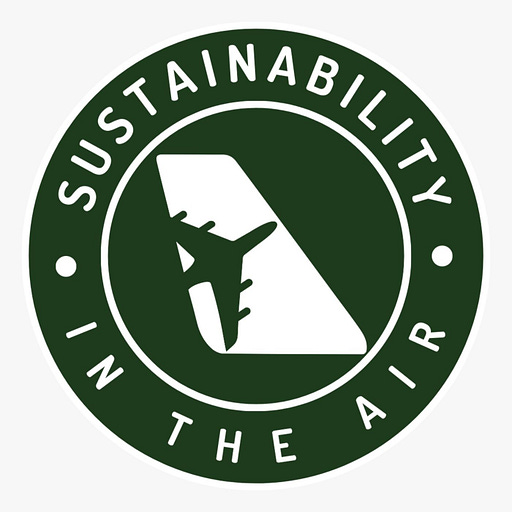 Jun 15 • 50M
How Air France plans to exceed the EU's decarbonisation targets
In this episode, we talk to Vincent Etchebehere, Air France's Director of Sustainability and New Mobilities.
Every week, Shashank Nigam, the CEO of SimpliFlying, talks to airline, airport, travel and technology executives to help make sense of the many paths to net zero, for an industry that is one of the hardest to decarbonize. Whether you're a frequent flier, an airline executive or just love travelling, if you care about sustainable global travel, then welcome aboard.
In this episode of our 'Sustainability in the Air' podcast, Vincent Etchebehere, Director of Sustainability and New Mobilities at Air France, speaks with SimpliFlying CEO Shashank Nigam and maps out the airline's short- and long-term pathways to net zero emissions:
Intermodal 'Train+Air' partnership with SNCF (5:30)

Fleet renewal (11:08)

Eco-piloting (12:30)

The importance of Sustainable Aviation Fuel (SAF) (14:00)

Who pays the green premium for SAF? (19:47)

How the Sustainable Flight Challenge brings everyone on board (30:07)

Testing new technologies (32:25)

Rapid Fire! (40:45)
Etchebehere joined the airline 17 years ago, and recently pivoted his career to focus on sustainability. In 2020, Etchebehere left the commercial division to take up his new role driving sustainability projects for Air France.
---
---
Why the short-term thinking matters
When setting sustainability goals for the long-term, short-term action cannot be ignored for three reasons:
First, long-term planning can sometimes dull the urgency of the task at hand and infuse a sense of complacency in an organisation.

Second, such plans can often be grandiose and unrealistic. In contrast, short-term goals are essentially set to be more achievable.

Third, every bit of action to combat climate change matters and no time is better than now. 
Keeping this in mind, in addition to its commitment to the United Nation's 'Net Zero by 2050' goals, Air France also has an internal goal of 30% CO2 reduction by 2030. In fact, not only is Air France aiming high, it plans to exceed EU mandates – and, consequently, surpass its peers.
The big picture
Air France is making investments now that will pay off in the long run: 
Fleet renewal: Since 2019, Air France has grown their new generation fleet from 4% to 15.6% in 2022. In addition, the airline has set a goal of 45% fleet renewal by 2025 and 70% by 2030.

Eco-piloting strategies: Pilots at Air France are trained to optimise flight trajectories and improve flight operations. This has reduced emissions by an average of 4-5% per year. 

Intermodality: Air France has partnered with National French Rail (SNCF) for the Train + Air intermodal program, to offer seamless transfers between flights and high-speed trains. 

Investing in Sustainable Aviation Fuels (SAF): Air France has a target of transforming its fuel mix to comprise 10% SAF by 2030. 
5 sustainability challenges Air France is addressing
1. With an increase in fleet size, the overall emissions increase
In addition to investing in new generation aircraft, Air France encourages and promotes eco-piloting practices. Pilots are trained in the newest industry strategies that maximise the efficiency of each flight from take-off to landing, for example:
On the ground, pilots save fuel by using the airport's electric supply instead of relying on the aircraft's auxiliary power unit (APU).

While taxiing on the runway, an Airbus A350 aircraft can be safely piloted on a single engine, which saves up to 700 kg of fuel on departure and on arrival.

During the flight, pilots also use AI tools that optimise flight trajectory and ensure a continuous descent, contributing to fuel savings. 
2. Intermodality can be logistically challenging
Combining a high-speed train leg with a medium- to long-haul flight is likely to appeal to travellers trying to cut back on their carbon footprint. But the logistics of navigating flight delays and plane-to-train transfers present a barrier to effective intermodal transport.
Air France's long-standing partnership with France's national rail operator SNCF, solves many of these issues. Their collaboration through the 'Train+Air' program provides customers a single reservation for their entire journey.
'Train+Air' covers 18 stations and is used by over 160,000 passengers every year. Customers can check-in online to both their flight and train segments without requiring separate tickets. Moreover, if there's a delay or cancellation, they have a guaranteed free seat on the next available flight or train.
The collaboration also enables synchronisation of flight and train schedules, minimising wait times and making transfers more efficient. Most conveniently, customers also experience consistent service and baggage handling regardless of whether they're at the airport or the train station.
"We are in the decade for action when it comes to the climate urgency, which is why we've set a very ambitious target for 2030..."
3. SAF shortage
Depending on the type of SAF used, SAF-powered flights can reduce CO2 emissions by up to 80%, compared to a kerosene-fuelled one. The high cost and low availability of SAF, however, pose a significant challenge.
Paired with Boeing's projection of a near doubling of aircraft by 2040, the EU mandate of 6% transition to sustainable fuel is likely to be affected by a severe supply shortage.
Air France is rising to the challenge by making considerable investments in SAF. For example, Air France signed two off-take agreements with Neste and DG Fuels in 2022 – totalling 1.6 million tons of SAF. 
Etchebehere explains that stimulating demand for SAF is a big part of the airline's strategy because it will "scale up the production we will need in the future".  While the considerable price gulf between SAF and traditional jet fuel remains, increased demand is likely to make this alternative more affordable in the future. 
Interestingly, Air France is already a major consumer of SAF in the global market, using 17% of the available SAF in 2022. Etchebehere hopes that investing in SAF will not only send a positive signal to producers but also demonstrate to the industry that a green future is attainable.
4. Low employee engagement
Etchebehere understands that employees usually have a lot on their plate, and sustainability shouldn't feel like one more thing to check off. On the contrary, he believes they should come to work feeling inspired about sustainability efforts. 
In 2022 and 2023, Air France participated in SkyTeam's Sustainable Flight Challenge (TSFC). TSFC was a chance to test many of the strategies they are putting in place now while inspiring internal efforts towards a cleaner future.
Etchebehere says his main takeaway from TSFC was seeing how excited and engaged employees were – right from ground operations to the cockpit and cabin crew.
5. New tech requires major testing
Etchebehere explains that the Sustainable Flight Challenge was also a laboratory for new technologies to be tested extensively.
The two flights selected for demonstration extensively combined the strategies of AI trajectory tools, APU belt acceleration and alternating engines.

Both flights managed to reduce their carbon footprint by 50%.

For the 2023 edition of TSFC, Air France worked with the French Meteorological Institute to tackle post-flight and overall ecosystem impacts, including research into contrails.
---
Thanks for listening Sustainability in the Air! Subscribe for free to receive our updates straight in your inbox.
---
'Sustainability in the Air' is the world's leading podcast dedicated to sustainable aviation. Through in-depth conversations with top aviation leaders, we break through the clutter and provide a clear roadmap for a net-zero future.
This episode is a part of our SkyTeam special series. In this series, we will highlight SkyTeam member airlines participating in The Sustainable Flight Challenge and bringing sustainability into flight operations today.