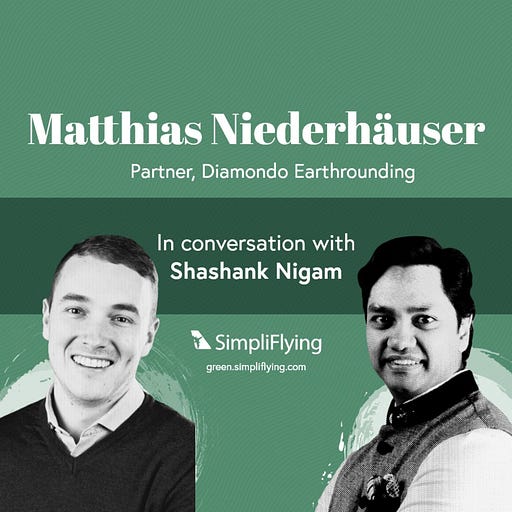 Nov 24, 2022 • 52M
An incredible journey around the world on sustainable fuel
In this episode, we talk to Matthias Niederhäuser, Pilot and Partner at Diamondo Earthrounding.
Every week, Shashank Nigam, the CEO of SimpliFlying, talks to airline, airport, travel and technology executives to help make sense of the many paths to net zero, for an industry that is one of the hardest to decarbonize. Whether you're a frequent flier, an airline executive or just love travelling, if you care about sustainable global travel, then welcome aboard.
Welcome to Season 2 of Sustainability in the Air, the world's first podcast dedicated to sustainable aviation. Through in depth conversations with top aviation leaders, we break through the clutter and provide a clear roadmap for a net-zero future.
---
Imagine if you could pilot a single engine airplane around the world? What if you could do it with a close friend? Even better, what if you could do it on sustainable aviation fuel? That's exactly what our latest guest on the podcast did this year.
In this episode of our 'Sustainability in the Air' podcast, Matthias Niederhäuser, Pilot and Partner at Diamondo Earthrounding, speaks with SimpliFlying CEO, Shashank Nigam.
Diamondo Earthrounding is a non-profit organization based in Switzerland which connects and promotes numerous initiatives accelerating aviation's path into a more sustainable future. Their aim is to create further awareness for sustainable technologies and promote ways for investing into them to accelerate aviation's path to net-zero carbon emissions.
You can listen and subscribe to our podcast below or read our deep-dive into the episode.
If you're rushed for time, you can also directly jump to your topic of interest by referring to these time-stamps:
2:22 Why he wanted to fly around the world on SAF?

4:02 Facing the critics

4:46 What it took to prepare for the mission

13:55 Flight-shaming experience

14:28 SAF: How it was sourced throughout the expedition

15:28 Book and Claim explained

17:25 The cost of SAF for the journey

21:48 Flying CO2 neutral

25:00 Green hydrogen

35:12 Flying across the Pacific in a single engine aircraft

38:00 Scaling sustainability without harming the planet

43:00 The cost of the mission

45:00 Key learnings from the mission

47:12 Rapid fire round
---
Circumnavigating the Globe using Sustainable Aviation Fuel
A story of formidable passion for sustainability in aviation began with two trained pilots who had a dream of travelling around the world on sustainable aviation fuel (SAF). Thirty-five countries and several months later, SimpliFlying speaks with one of the founders of Diamondo Earthrounding about their adventures of a lifetime.
For Matthias Niederhäuser and his partner Robin Wenger, what started off as a dream turned into reality. They were the architects of a daring mission to fly around the world as sustainably as possible, all the while connecting sustainable initiatives around the globe. They took to the skies in a Diamond DA50 RG single-engine aircraft and the rest is history.
---
Where there's a will there's a way
Both Matthias and Robin are first generation pilots. Neither had dad's spare aircraft to use or a runway strip with a spare plane hanging around. So the most obvious hurdle was figuring out how to sustainably fly around the world using SAF with no aircraft at hand.
As luck would have it, a chance encounter paved the way: Matthias's dad had a client who wished to go on a flying expedition, who then caught the aviation bug and purchased a single-engine aircraft. Matthias and Robin entered into a partnership with the gentleman and managed to secure access to it for their unique mission.
Securing an aircraft was merely the first of many challenges. They spent a lot of time thinking about what could go wrong and preparing mitigation plans. They did C-survival training where they were cramped into an airframe, were placed underwater, and had to plan their escape as part of the training. They had to also get an additional fuel tank certification, which the aircraft required in order to fly long distances. Moreover, Covid-19 and its related protocols and roadblocks threw in an added layer of complexity.
---
Securing SAF: The Challenges
SAF isn't available everywhere in the world and logically the engine would need modifications for such a mission technical support to fly on SAF.
With a diesel engine inside the single-engine DA aircraft, it's the perfect platform to showcase that light aircraft can use SAF. Though it is a diesel engine, it is certified to be used as jet-fuel.
---
Mission Critical
January 02, 2022: Matthias, an aspiring commercial pilot and Robin, a trained military airforce pilot, set out on their journey. They began from their home country of Switzerland eastwards towards Thailand. At this point, they were not entirely certain of how they would cross the Pacific. Their storied adventures are too numerous to count, but for perspective, the longest leg – because of trade winds influence – was from Majuro, Marshall Islands to Honolulu, Hawaii. They were in the cockpit for something short of 14 hours.
---
Expect the Unexpected
A phrase both Matthias and Robin learned in flight school was 'expect the unexpected'.
The overriding mantra of their expedition was to be ready for surprises. From seeking help from foreign embassies for clearance to land for technical stops during covid border closures, to securing SAF and biofuels from airports in advance of landing, overcoming challenges was the name of the game.
They planned for a number of contingencies, made sure the planning was super adjustable, and prepared for cases where countries would not allow them to enter – among many other variables.
As the expedition ran through the time when covid restrictions were still in a majority of countries, they had to be flexible, such as sleeping upwards of seven hours in the cockpit in Guam during a tech stop and going into seven days of quarantine in Bangkok because the aircraft had to go in for scheduled maintenance – to name a few.
---
Handling the Skeptics: Flight Shaming
The mission they embarked on did not come without critics. Justifiable questioning on the sustainability parameters of the mission arose from their closest circles.
Flying around the globe – regardless of the size of the aircraft – still comes with a significant carbon impact. Both Matthias and Robin wanted to have better answers to what aviation can do to become more sustainable.
From the outset, their nonprofit organization Diamondo Earthgrounding's theme was about connecting sustainable initiatives around the world. The aim was to educate communities and provide information about how they can get involved.
From carbon offsets to planting trees, fuel efficiency, direct air capture, SAF and green hydrogen, they embarked on a journey to connect the dots and see for themselves how communities across continents are doing their part to develop efficiencies and solutions.
---
Calculating the Cost of the Mission
Compared to fossil jet fuel, the cost of SAF is multiple times higher. In fact, the cost can easily be 3x to 5x more than that of jet fuel.
The cost is highly dependent on the production method of SAF. Electricity prices to produce SAF can be 5 to 8 times the cost of fossil jet fuels.
Price is heavily reliant on where the SAF is uplifted because depending on the jurisdiction, some governments incentivize the use of SAF and therefore cover a portion of the cost.
The duo were fortunate to receive support by way of partnerships in various spots, such as Del Monte aviation, which partnered by providing the SAF; Swiss International Airlines who provided Satellite data through mission support and covering the journey on their social media channels to report on the progress of the journey and on sustainable initiatives in aviation; and lastly many airports supported by way of landing fees.
---
Our Take
Matthias and Robin combined their aviation training and knowledge to apply it to making aviation sustainable for a greener tomorrow. Their expedition to 35 countries reveals that the challenges of SAF are the same everywhere: scaling it, generating the electricity to produce it, navigating regulatory frameworks, and the technical modifications required in certain aircraft.

SAF is one of the most keenly-watched solutions in sustainable aviation. While the space is constantly evolving, bold trailblazers are already flying aircraft with either a combination or fully-fuelled SAF flights. Slowly but surely, the world of aviation is beginning to change.

The tenacity and will of Diamondo Earthgrounding is inspiring and encouraging. The industry needs more such trendsetters to enable a rapid shift towards greener aviation.
---
Our Sustainability in the Air podcast is powered by SimpliFlying which has been helping build trust in travel for over a decade.
This season of the podcast is brought to you by CarbonClick, leaders in managing carbon offsetting programs for top global airlines.