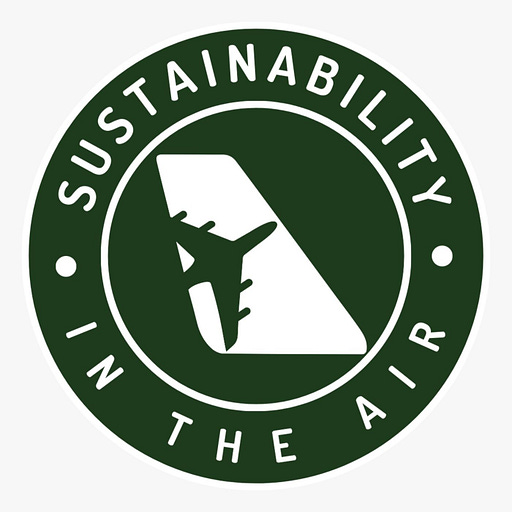 Aug 3 • 46M
Swissport believes greening the skies starts on the ground
In this episode, we talk to Nadia Kaddouri, former Chief Strategy and Sustainability Officer at Swissport International.
Every week, Shashank Nigam, the CEO of SimpliFlying, talks to airline, airport, travel and technology executives to help make sense of the many paths to net zero, for an industry that is one of the hardest to decarbonize. Whether you're a frequent flier, an airline executive or just love travelling, if you care about sustainable global travel, then welcome aboard.
In this episode of our 'Sustainability in the Air' podcast, Nadia Kaddouri, former Chief Strategy and Sustainability Officer at Swissport International, speaks with SimpliFlying CEO Shashank Nigam about the importance of sustainable ground operations. 
Based in Zurich, Swissport is the leading provider of airport ground services and air cargo handling based on revenue and number of airports served. Kaddouri details Swissport's plans, indicating how the scope of sustainability extends beyond decarbonisation. She also underlines the importance of people's enthusiasm in embracing sustainability for a net-zero future. Moreover, her own journey from finance to sustainability leadership illustrates the value of passion and continuous learning in mastering new fields.
Here are the key highlights of the conversation: 
Challenges of the transition to an electric future (4:40)

Decision to join SBTi (8:23)

Motivations for greening operations (12:39)

Collaboration model with airports (18:01)

Bringing sustainability into the cargo side of the business (24:28)

Communicating with the customers (28:15)

Kaddouri's vision for a net-zero future (37:32)

Rapid Fire! (40:35)
Keep reading for a quick overview of the episode.
---
---
Why incremental improvements matter
Kaddouri points out a frequent "disconnect between strategy and implementation" in business sustainability objectives. Swissport, however, is emphasising gradual changes and short-term goals to prove their commitment and ability to meet their targets. This step-by-step approach aids Swissport in remaining flexible and making well-informed decisions amidst the quickly evolving landscape. 
Swissport has committed to SBTi (Science Based Targets Initiative) targets to aid airports in revamping their ground operations and addressing their decarbonisation targets, with tangible results expected in the coming decade.
With 55,000 pieces of ground equipment worldwide, Swissport is methodically advancing towards electrification. By focusing on these incremental changes, Swissport is exemplifying the significance of small steps in achieving broader sustainability goals.
1. Setting achievable targets
Swissport embarked on their ESG journey in 2022. Though relatively new to the scene, they're establishing goals that are both ambitious and attainable.
Swissport aims to boost the proportion of their electric vehicles to 55% by 2032, aligning with the STBI targets. Kaddouri explains that instead of setting net-zero goals based on a specific year, like 2030 or 2050, Swissport is focusing on realisable targets that will "show results now before pushing to net zero."
She concedes that their target may appear modest, but she prefers to understate a goal she is confident Swissport can fulfil. In addition, Swissport is committed to slashing emissions by 42% by 2032.
"It's important that we do the right thing, prove that we are doing the right thing, and then communicate."
2. Adopting a piece-by piece approach
How can an airport remodel its entire ground operations? One piece of equipment at a time.
A significant part of Swissport's services includes ramp and cargo handling, requiring large machines like pushback tractors and cargo lifters that will all eventually run on electricity. Currently, 16.4% of their equipment is electric, a figure Kaddouri anticipates will reach 20% by the close of 2023.
This shift towards electrification is particularly noticeable in their European operations, such as Austria Vienna Airport, where already 80% of the ground equipment is powered by electricity.
3. Aligning with each airport's mission
Swissport has established a global presence in nearly 50 countries, cultivated through numerous unique partnerships. They engage in a collaborative approach tailored to each airport's specific objectives and existing infrastructure.
For instance, Bristol airport is planning to establish a hydrogen hub, and Swissport prioritises incorporating this vision when collaborating with them. Bristol's Project Acorn is geared towards assessing the feasibility of hydrogen-powered operations, starting with ground equipment supplied by Swissport.
Meanwhile, in their work with Amsterdam Schiphol Airport, Swissport's primary role is to aid the airport's transition towards biofuel.
"Our role is to run our decarbonisation journey, but even more important is to align with the decarbonisation journey of our stakeholders."
5 key transformations envisioned by Swissport 
1. Electric ramp handling
Until a few years ago, diesel was the primary fuel for airport ground operations. However, starting in 2016, there was a significant shift towards electric ground support equipment (eGSE) to mitigate the harmful effects of diesel exhaust on their workforce.
Today, eGSE forms a critical part of their sustainability strategy. Ramp handling, a vital aspect of ground operations, traditionally uses Towbarless aircraft tractors to push planes from their parking spots to the taxiway. Swissport is now partnering with TLD to replace these diesel-fueled tractors with battery-operated versions. The TPX-100 e-tractor model from TLD has the potential to decrease CO2 emissions by up to 8 tonnes per year compared to its diesel counterpart.
2. Plastic-free lounges
Swissport is committed to phasing out the use of single-use plastic in all their Aspire lounges by 2025, marking the end of plastic cups and bottles, while enhancing their recycling services. The plan is to replace all plastic ware with recyclable and reusable alternatives. Given that Swissport operates 64 lounges across 13 countries, this shift will have a significant impact on reducing plastic waste.
"What is really challenging, for instance, is to eliminate plastic in our cargo operations. This is one of our ambitions, but it requires a complete overhaul in our procedures and extensive training for our people, which will require more time. When it comes to lounges, it's about removing items like plastic glasses and plastic bottles, which the public is quite accustomed to."
3. More sustainable operations globally
While Swissport boasts a global network, its presence is more pronounced in Europe and North America than in Latin America, Africa, and the Middle East. However, Kaddouri aspires to see their services gain a broader global foothold in the future. Access to sustainable alternatives is easier in mature markets with supportive infrastructure like charging ports and vehicle supply chains. 
By instigating infrastructure transformation in markets where they have influence, Swissport aims to encourage other markets to do the same. Kaddouri reveals that the shift towards more efficient ground operations is becoming a norm, and she hopes that inter-airline competition will stimulate Swissport's growth. As airports start to observe traditional methods becoming less economically sustainable, she believes that finances will be a compelling factor to switch to green operations.
"You cannot invent your business model by not acknowledging that fossil energy is not the future for the planet." 
4. Sustainability beyond decarbonisation
Nadia broadened the idea of sustainability beyond decarbonisation. She mentioned that the "people agenda" is also significant, emphasising the importance of considering social sustainability alongside environmental sustainability.
While announcing their sustainability targets in 2022, Swissport noted that they are exceeding IATA's 25% target as one-third of their employees and global management team are women. The company now aims to increase female representation in leadership positions below the C-level to at least 25%, with an ultimate goal of 40% women in management within five years. 
The company is also focused on enhancing safety, aiming to reduce work-related injuries, and damage to customer aircraft and equipment. In addition, the company is dedicated to community outreach programs across all locations, focusing on health care, sports, charity, environmental protection, and career development.
"I think you need to have this passion for doing the right thing, because this is what it is about. It's doing the right thing for the planet, doing the right thing for the people, doing the right thing for the company as well. And matching all those needs together with various stakeholders." 
5. Leadership passionate about sustainability
Kaddouri, despite her lack of a sustainability background, has embraced her new role through self-education. She stays informed and draws inspiration from industry leaders such as easyJet and SWISS, who are ahead in sustainable practices. She asserts that it's the responsibility of industry leaders to keep abreast of the latest developments in sustainability.
"What you need are people that are passionate about really doing the right thing. And if you are ready to study, and if you have passion, I think that you will get into the journey very quickly."
---
Thanks for listening to Sustainability in the Air! Subscribe for free to receive our updates straight in your inbox.
---
'Sustainability in the Air' is the world's leading podcast dedicated to sustainable aviation. Through in-depth conversations with top aviation leaders, we break through the clutter and provide a clear roadmap for a net-zero future.