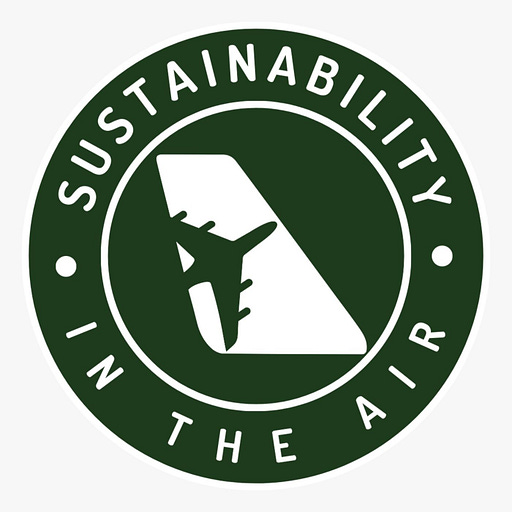 Jun 8 • 33M
Why SkyTeam believes the world needs "conscious travel"
In this episode, we talk to Patrick Roux, SkyTeam Alliance's CEO.
Every week, Shashank Nigam, the CEO of SimpliFlying, talks to airline, airport, travel and technology executives to help make sense of the many paths to net zero, for an industry that is one of the hardest to decarbonize. Whether you're a frequent flier, an airline executive or just love travelling, if you care about sustainable global travel, then welcome aboard.
As we continue to grapple with the effects of climate change, the conversation around sustainability in the airline industry has never been more critical. 
In this episode of our 'Sustainability in the Air' podcast, SkyTeam Alliance's CEO Patrick Roux speaks with SimpliFlying CEO Shashank Nigam, and outlines the alliance's role in enabling airlines' net zero journey. He also discusses The Sustainable Flight Challenge, the alliance's groundbreaking initiative to promote sustainable innovations — and how sustainability can be an integral part of customer experience:
Integrating sustainability into the customer experience (3:45)

Setting sustainability baselines (6:35)

The Sustainable Flight Challenge (7:21)

Collaborating with the broader industry (12:45)

Sustainability and increasing alliance membership(19:14)

Promoting the role of intermodal transportation (20:42)

From frequent flyer programme to a good flyer programme (22:05)

Optimism about the future of sustainability (24:40)

Rapid Fire (28:05)
Before he joined SkyTeam, Roux held executive level positions at the Air France-KLM Group, and has over 30 years' experience in the industry.
---
---
Why cooperation, not competition, will drive sustainability
As an airline alliance, SkyTeam embraces sustainability as a collective initiative.  It encourages its members to exchange best practices and move together towards the common goal of decarbonisation. 
Overall, SkyTeam's approach to sustainability involves:
Promoting sustainable practices and sharing them with member airlines to foster industry-wide change.

Setting baselines to ensure a consistent standard of sustainability across member airlines. 

Encouraging and rewarding new innovations through The Sustainable Flight Challenge (TSFC). This year, 22 airlines participated in TSFC across 31 categories to yield new and practical solutions for green travel.

Using sustainability practices to streamline customer experience.
Five ways SkyTeam wants airlines to evolve
1. Learning from each other's sustainability initiatives
SkyTeam alliance members find themselves at varying stages of their respective sustainability journeys. The alliance promotes a culture of learning from each other through several initiatives, chief among them being the Sustainable Flight Challenge.
In May 2022, SkyTeam launched 'The Sustainable Flight Challenge' (TSFC), in a bid to make flights environmentally sustainable through innovative solutions. TSFC sparked hundreds of new ideas to make air travel greener, resulting in 15% operational improvements, and an overall 4.4% CO2 reduction across 19 flights. In its second iteration this year, TSFC aimed to spark innovation through friendly competition across 31 different categories of initiatives. The initiative gives airlines, and the industry, valuable insights to improve and streamline their decarbonisation efforts. 
Roux commends members for their active participation:
"I was quoting Saudia, I was quoting Kenya Airways, they are very active and innovative in the challenge ...there are opportunities for each of the members, whatever their size, whatever the maturity of their country, to really implement some breakthrough ideas."
2. Collaborating with the broader industry
Started in 2022, The Sustainable Flight Challenge (TSFC) has been the major driving force of sustainability initiatives among SkyTeam airlines. This year TSFC was extended to include 'friends and family', taking the number of participating airlines from 16 to 22. 
Roux reveals that SkyTeam has also been contemplating ways to collaborate with other alliances and the International Air Transport Association (IATA) for TSFC. The vision is to unite the industry under the common goal of accelerating its transition towards net zero, and possibly include stakeholders other than just airlines in the challenge. 
Roux explains the necessity of such a unified approach:
"[TSFC is] not the kind of product that we want to keep ourselves. We want to share as much as possible with the rest of the industry. We don't want to organise a competition between SkyTeam and the rest of the world. Having a wider participation of alliances would enable the industry to accelerate its transition. The how is yet to be defined. But the ambition is there."
3. Integrating sustainability into the customer experience
Customer experience in the aviation industry is undergoing a metamorphosis, increasingly shaped by sustainability. Roux acknowledges that travellers' perceptions and preferences are evolving – the modern-day voyager seeks a purposeful journey and is mindful of the environmental impact of air travel. 
Furthermore, Patrick reveals that some SkyTeam members are considering a pivotal shift from frequent flyer programs to "good flyer" programs. This involves rewarding conscientious travel, and aligning customer experience with sustainable choices. 
"A lot of airlines are considering changing the way they reward their best customers. And rather than being a frequent flyer programme, they want to build a good flyer programme."
Additionally, he emphasises the importance of consistency in sustainable practices across airlines, ensuring that customers consistently encounter and embrace greener options. Through this lens, sustainability is not merely an afterthought but the central fabric that can redefine and enrich the customer experience in aviation.
4. Promoting the role of intermodal transportation
Roux recognises the increasing role of intermodal transportation to provide an improved, seamless customer experience. Last year, Deutsche Bahn became the first rail network to join the Star Alliance. Emphasising the need for seamless travel to improve customer experience, Roux states that similar integrations could be in the works at SkyTeam, but does not divulge any further details.
"Customer experience is made of a mix of airline, train and maybe other means of transportations. So SkyTeam has to work with those operators to provide solutions."
5. Driving awareness and optimism about the future of sustainability 
Despite the complex challenges that the aviation industry confronts in terms of sustainability, optimism persists within the sector. Roux believes there is a widespread awareness among airlines about their responsibility towards the environment. 
The industry's rapid progress in reducing its carbon footprint, in his opinion, bodes well for the future. He emphasises the need for industry actors to work together to enhance a sense of unity and shared responsibility.
"I'm very, very confident and optimistic for the future because all the airlines are aware that we have a big responsibility… the reality is to work together to make it happen even more quickly than it's happening today," says Roux.
Thanks for listening Sustainability in the Air! Subscribe for free to receive our updates straight in your inbox.
---
'Sustainability in the Air' is the world's leading podcast dedicated to sustainable aviation. Through in-depth conversations with top aviation leaders, we break through the clutter and provide a clear roadmap for a net-zero future.
This episode is a part of our SkyTeam special series. In this series, we will highlight SkyTeam member airlines participating in The Sustainable Flight Challenge and bringing sustainability into flight operations today.