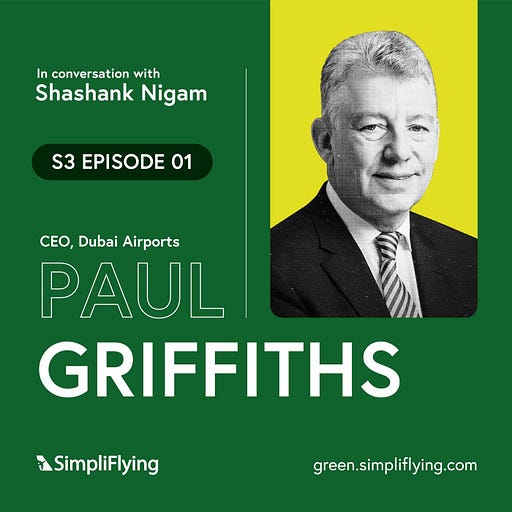 Feb 1 • 46M
How do you decarbonise a major airport?
In this episode, we talk to Dubai International Airport's CEO Paul Griffiths.
Every week, Shashank Nigam, the CEO of SimpliFlying, talks to airline, airport, travel and technology executives to help make sense of the many paths to net zero, for an industry that is one of the hardest to decarbonize. Whether you're a frequent flier, an airline executive or just love travelling, if you care about sustainable global travel, then welcome aboard.
Welcome to Season 3 of Sustainability in the Air, the world's first podcast dedicated to sustainable aviation. Through in-depth conversations with top aviation leaders, we break through the clutter and provide a clear roadmap for a net-zero future.
---
For the first time, our 'Sustainability in the Air' podcast features the CEO of an airport, not an airline. Paul Griffiths, the first guest of Season 3, has been CEO of Dubai Airports for over 15 years now.
In this episode, he speaks to SimpliFlying CEO Shashank Nigam at length about the sustainability initiatives at one of the largest airports in the world. After all, the yearly capacity at Dubai International Airport (DXB) currently stands at 100 million passengers per annum. And Dubai's airports are vital in creating a lasting, positive impression for tourists and residents alike: 95% of travellers arrive or depart the UAE by air.
You can listen and subscribe to our podcast on all major podcast platforms or read our deep dive into the episode below.
7:50 Does Dubai International Airport (DXB) have a net zero target?

10:00 Converting 100% of cooking oil into biodiesel.

15:30 How is DXB International preparing for the next-generation aircraft?

22:18 Does being sustainable as an airport add a commercial advantage?

24:45 Which airports around the world are doing sustainability right?

28:52 Climate change activism and how Dubai Airports will address it

33:10 Do you think the industry can meet the 2050 net target? 27 years to go. Can we make it?

35:40 Making it personal: Paul's own carbon footprint reduction practices.

36:42 Rapid Fire Round
---
Reduction is the name of the game
DXB's green credentials are impressive. Their latest initiatives include the recently announced commitment to keep 60 percent of all waste from Dubai International (DXB) from entering landfills by the middle of 2023.
Paul, who is Head of both DXB and Dubai World Central (DWC) airports, tells Shashank that a net zero target is not the aim: but rather, it's about the thousands of small initiatives that reduce the cumulative energy footprint. In a nutshell, Griffith's sustainability strategy can be summarised as: Poignant, pragmatic and Practical.
"I'm far more interested in what we did yesterday to make sure today is more sustainable than the day before. …I've got an action-oriented agenda, where it's about thousands of the small things that we can do to make a difference in the here and now."
The airport recently won the Best Aviation Sustainability Programme, (Environment pillar) at the Sheikh Mohammed bin Rashid Global Aviation Awards for its ongoing efforts in helping to develop a more sustainable global aviation industry, and is presently entering its fourth year since installing a solar farm of 15,000 photovoltaic panels on top of the building at Terminal 2 – the biggest of its kind in the Middle East – which reduces the airport's total energy costs by 29%.
The Power of the Small Steps
Green initiatives at the airport have included the use of energy-efficient fittings, the optimisation of cooling systems and the installation of thousands of LED bulbs.
They also have a project to replace the ground service vehicle fleet with electric and hybrid vehicles. In addition, the airport operator has banned the use of single-use plastics at Dubai International and Dubai World Central (DWC) since Jan 1, 2020.
Moreover, given that Dubai Airport is a round-the-clock operation, food and beverage outlets are also part of the waste chain. Griffith mentions DXB's program to reduce landfill waste by 60%. Essentially, by mid-2023, 60% of the waste produced at DXB will be moved away from landfills. Currently, the airport is also converting 100% of all cooking oil produced in their food and beverage outlets into biodiesel.
And the quest continues
Paul tells Shashank that his agenda is action-oriented and that he's far more interested in what they did yesterday collectively, to make sure today is more sustainable than the day before. He and his team also scan the globe and look for best practices, whether it's on the West Coast of the USA, Dallas Fort Worth or Scandinavia for solutions and ways to improve and increase efficiency. "Sustainability is such an important thing", he says. "Anyone who has come up with a solution has a duty of care to the world to share it."

When asked about climate activism, he asserts that reduction and consumption is part of personal consciousness, "We are all consumers, and we all have to do our very best to reduce our own individual carbon footprint."

In the final section, Paul explains how he leads by example and is passionate about his own reduction measures. He tells Shashank how his home in the U.K. is completely hydrocarbon-free, and electricity is generated from solar energy. Taking steps to "live off the grid" is an arduous endeavour and gives us hope that slowly but surely, every small measure will lead us to a greener future.
---
Our Sustainability in the Air podcast is powered by SimpliFlying which has been helping build trust in travel for over a decade.
This season of the podcast is brought to you by Cirium and CarbonClick. As a sustainability partner, Cirium helps the aviation industry gain a much clearer view of carbon emissions and develop methods to reduce them, enabling on the industry promise to fly sustainably. CarbonClick is the industry leader in managing transparent carbon offsetting programs for individuals and top global airlines.