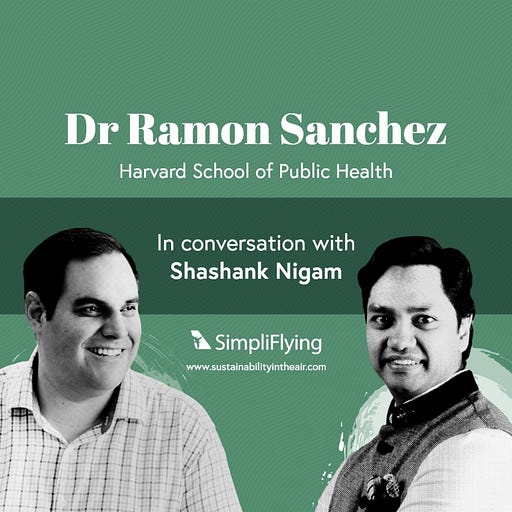 Nov 10, 2022 • 53M
Why the aviation industry needs to embrace the circular economy
In this episode, we talk to Ramon Sanchez, Principal Investigator at Harvard University.
Every week, Shashank Nigam, the CEO of SimpliFlying, talks to airline, airport, travel and technology executives to help make sense of the many paths to net zero, for an industry that is one of the hardest to decarbonize. Whether you're a frequent flier, an airline executive or just love travelling, if you care about sustainable global travel, then welcome aboard.
Welcome to Season 2 of Sustainability in the Air, the world's first podcast dedicated to sustainable aviation. Through in depth conversations with top aviation leaders, we break through the clutter and provide a clear roadmap for a net-zero future.
---
In this episode of our 'Sustainability in the Air' podcast, Ramon Sanchez, Principal Investigator and Research Associate at Harvard University, speaks with SimpliFlying CEO Shashank Nigam and shares how academic institutions and airlines can work together as allies to decarbonise aviation.
You can listen and subscribe to our podcast below or read our deep-dive into the episode.
If you're rushed for time, you can also directly jump to your topic of interest by referring to these time-stamps:
Ramon's journey from plant operations to sustainability (3:00)

Carrot vs Stick: comparing EU and the US (6:55)

Why do airlines need to work with smaller companies (8:09 & 28:27)

Forecasting the cost of SAF (11:06)

Metrics that Aviation Executives must consider (12:52)

Let's not blame the user (16:30)

Theory vs Practice: consulting academics and activists (19:24)

Can economic growth and sustainable development go hand in hand? (22:20)

Why is Circular Economy the need of the hour? (30:10)

Working with academia to improve airline operations (32:15, 39:23 & 45:15)

Rethinking ESG vs SDG (35:45)

Emissions per seat mile (43:25)

Hopes for a sustainable future of aviation (49:10)
---
Let's not wait for the bigger players
Before pursuing a career in research, Sanchez worked as a manager in a manufacturing plant in California during the early 2000s. To avail the Californian government's tax incentives for sustainability initiatives, Sanchez's manufacturing unit hired professionals to reduce the electricity consumption and improve production yields and energy efficiency. Fascinated by the monetary savings and the 30% reduction in environmental footprint, Sanchez went on to pursue a master's and then a doctoral degree in environmental health.
Sustainable Aviation Fuels (SAF) are portrayed as the aviation industry's solution to the decarbonising problem. However, SAF remains in short supply as scaling up operations has been difficult. This drives up costs, with SAF costing nearly 3-5 times more than jet-A. Sanchez, however, remains hopeful that costs will come down significantly as production is likely to scale gradually.
Sanchez believes that the industry needs to support startups with the requisite innovative technologies and help them scale production through pilot programs. Waiting for bigger companies (like Shell and Exxon) to swoop in and fill the gaps is a reactive approach that would only cost us precious time. Instead, he urges airlines to co-create the future by investing in smaller companies and new technologies. Governments can help catalyse the process through fiscal incentives.
Moreover, working with smaller companies also opens up the possibility of vertical integrations wherein an airline could end up purchasing the smaller SAF manufacturer, Sanchez explains. This could be an effective strategy in the long run, with airlines being able to control fuel and transportation operations.
---
Metrics for Aviation Executives
According to Sanchez airline executives must consider their greenhouse gas emissions using quantifiable metrics. This could include measuring emissions on a per flight or per mile basis. With such a metric in place, they should then set goals for emissions reduction and ensure that there is timely compliance. Offsets, Sanchez believes, must not be used as the primary emissions reduction strategy as they are often not certified and their benefits are questionable, and airlines run the risk of being blamed for greenwashing. Instead, executives should use offsets as a contingency strategy, resorting to them only when they fall short of their decarbonising goals.
Sanchez also points out that net-zero goals are not very practical. Alternatively, airlines should aim for "close to net zero" throughout the cycle of operations (eg: building the airplane, tarmacs, airports). Monitoring these reductions gives airlines a competitive advantage, and helps build credibility that the airlines can leverage while fixing ticket prices to account for the cost of SAF. Passengers would be willing to pay extra if the airline's efforts are well known to them.
---
Theory vs Practice: A surprising insight from the US Navy
Scientists, academics, and climate activists are often criticised by business leaders because they believe that sustainability recommendations are rooted in theory and impractical to implement. Sanchez says that the real reason is usually misinformation, fear-mongering and conflict of interest between existing suppliers and promoters of status quo.
Consider this: it is in the interest of the oil industry to keep insisting that SAF is not ready for mainstream usage; that the technologies are too primitive; or that the supply is too constrained and the costs too high. However, here's a fact: the US Navy has successfully conducted large-scale tests with micro-algae based fuel.
The real underlying reason for SAF scepticism may be that even though the technologies exist, there isn't enough push or momentum to move things forward. Sanchez believes that the scepticism is exacerbated by the lack of enforcing mechanisms or stringent climate legislations. The reality is that the technology exists but there is not enough conviction in the industry to move in the right direction. The first step, as mentioned previously, would be to support the small companies that are innovating and help them achieve scale.
---
Can sustainability and economic development co-exist?
For Sanchez, there's no doubt they can. He posits a thought experiment: If small companies went to the Caribbean or Maldives or any destination that's difficult to access without airplanes, and helped local communities produce SAF, it will result in large-scale job creation. According to Sanchez, these jobs will be mostly resilient to fluctuations in the market and also support the local economy. Moreover, their operations could be funded by international financial institutions like the World Bank, helping them produce fuel at a competitive price.
In addition, providing fiscal incentives for airlines to purchase this fuel would create the perfect economic conditions that are also sustainable. Some airlines might even choose to fly to those countries just to get the fuel that they need!
---
Why the industry must work with academia
Sanchez acknowledges that the industry is taking the right baby steps to sustainability – for example, by using bamboo cutlery, boxed water, and no single-use plastics on-board. However, he insists that the industry must connect with researchers in universities to find out what is truly sustainable.
He says that many airlines leave one engine running to have air conditioning and HEPA filters functioning when the airplane is at the airport. However, the best alternative would actually be to get that energy from the airport in the form of electricity. And if the airport generates the electricity through solar panels or small wind turbines that would be a perfect outcome.
Here's another way of looking at it. Airlines might have cups that are made out of bamboo. Sanchez says it's not a bad alternative but you could have hard plastic that is fully recyclable. And it would be as good as bamboo. Sanchez bemoans the fact that airlines may not always assess the real impact of an initiative.
The right way is to think about the impact across the complete lifecycle of a trip and product, not just one touchpoint. Airline suppliers may push bamboo cups by claiming they're sustainable. But what if the cups aren't composted or end up in a landfill? What if it generates methane that is even worse for the environment? That's where universities can help plug the knowledge gap and offer a true cost-benefit analysis.
---
Our Take
The current economy with its linear take-make-dispose approach is inherently wasteful. The usual practice is to take materials from the earth, make products, and eventually throw them away as waste.

In a circular economy, waste production is curbed by reusing, recycling and repurposing products and materials on an ongoing basis to extend their lifecycle as much as possible. This is especially important in the context of aviation. Estimates by IATA indicate that, by 2027, airlines could generate over 11 million tonnes of cabin waste annually.

As a champion of the circular economy, Sanchez mentions how existing technologies can already convert wastewater to energy. Sanchez says it is important for airlines to participate in the circular economy and find creative solutions. One of the ways the industry can immediately put the circular economy into practice is by looking into aluminium. Aluminium is used extensively in airplanes and is 100% recyclable. There are also technologies to create rubber from citric acid and glycerin, which can be used extensively to replace aircraft tires. Every opportunity for enabling the circular economy must be seized.

It is also essential for airlines to be scrupulous in finding methods to be as environmentally mindful as possible. Shifting the blame to their customers is not just unethical, it is also bad for business.

Sanchez's suggestions of incorporating academic knowledge to foster sustainable growth in the travel industry just might be the solution we seek. After all, a sustainable future requires collaborative effort from all actors.
---
Our Sustainability in the Air podcast is powered by SimpliFlying which has been helping build trust in travel for over a decade.
This season of the podcast is brought to you by CarbonClick, leaders in managing carbon offsetting programs for top global airlines.