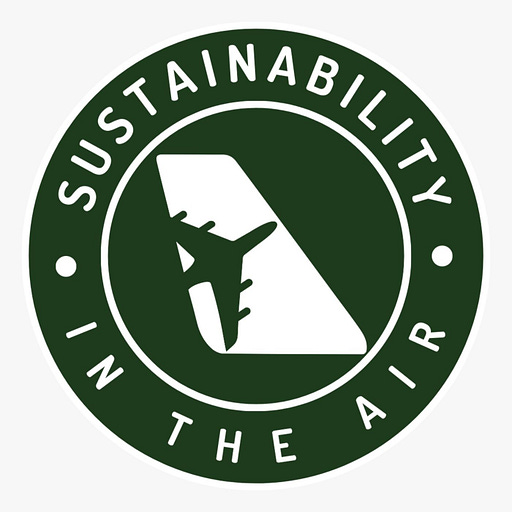 Aug 17 • 54M
How JetBlue plans to get to net zero by 2040 without stifling growth
In this episode, we talk to Sara Bogdan, Head of Sustainability & ESG at JetBlue Airways.
Every week, Shashank Nigam, the CEO of SimpliFlying, talks to airline, airport, travel and technology executives to help make sense of the many paths to net zero, for an industry that is one of the hardest to decarbonize. Whether you're a frequent flier, an airline executive or just love travelling, if you care about sustainable global travel, then welcome aboard.
In this episode of our 'Sustainability in the Air' podcast, Sara Bogdan, Head of Sustainability and ESG at JetBlue Airways, speaks with SimpliFlying CEO Shashank Nigam about how JetBlue is planning to achieve net zero emissions by 2040 – a full decade ahead of the industry's target.
Bogdan began her career in climate change research and brings a science-based perspective to her vision for JetBlue's decarbonisation journey. She joined the airline in 2014 and now heads their sustainability efforts.
Here are the key highlights of the conversation: 
Getting to net zero ahead of the industry (3:36)

The evolving role of carbon offsetting and carbon removal (14:10)

JetBlue's sustainability goals (25:20)

Balancing growth and sustainability (22:34)

JetBlue's approach to inflight sustainability (27:12)

Adopting a collaborative approach (35:43)

Rapid Fire! (42:57)
Keep reading for a quick overview of the episode.
---
---
Why thinking differently matters
An ambitious net-zero target: JetBlue has set a target of getting to net-zero by 2040, a decade ahead of most airlines. The airline announced this ambitious goal in 2020, when it signed the Climate Pledge founded by Amazon and Global Optimism. Alongside Alaska Airlines, JetBlue is one of only two major airlines to sign the pledge.

Betting on the "JetBlue effect": JetBlue has a reputation as a disruptor in the airline industry. An MIT study from 2013 examined how low-cost airlines can reduce flight prices, terming this phenomenon the "JetBlue Effect".
Dave Clark, Head of Revenue and Planning at JetBlue, explained, "When (JetBlue) comes in with a lower fare and better products, it forces the rest of the competition to step up." This was evident in 2013 when JetBlue began flying between Boston and New York, and other airlines' fares on that route decreased from $165 to $82, a reduction of about 50%. The effect has been consistent with JetBlue's expansions, including their new London transatlantic route that offers the Mint Suite cabin experience. Following the introduction of the London Mint flight in 2021, the highest walk-up fare for the transatlantic route was cut by 50%. JetBlue hopes this effect will carry over into their sustainability efforts as well.

Not asking customers to cover the 'green premium': High customer satisfaction is central to JetBlue's business model. Upon entering New York's competitive market, JetBlue set itself apart by offering an enhanced cabin experience at a lower price. This commitment to exceeding customer expectations is also reflected in their approach to sustainability. Even though sustainable aviation fuel (SAF) is 2-3 times more expensive than conventional jet fuel, JetBlue does not intend to pass this extra cost onto its customers. Instead, the airline's focus is on maintaining low fares while continuing to invest in SAF.
"We wanted to play a role in making sure that this market reached commercial scale, and that the price came down. The more that we buy, ideally, economies of scale are achieved… and ultimately get to this place where the price can come much closer to the price of conventional jet fuel".
5 facets of JetBlue's sustainable growth strategy
In 2022, JetBlue announced ambitious decarbonisation goals. These have been approved by the Science Based Targets initiative (SBTi). The target commits JetBlue to a 50% reduction in well-to-wake (lifecycle) scope 1 and 3 greenhouse gas emissions related to jet fuel per revenue tonne kilometre (RTK) by 2035, using 2019 as the base year. The airline says this target represents their most substantial near-term emissions reduction goal. It also aligns with both the Paris Agreement objectives and JetBlue's goal to reach net zero carbon emissions by 2040. 
Bogdan insists that the airline believes flying is a net good and wishes to invest in solutions that allow it to grow sustainably. This belief determines their overall approach outlined below.
An important caveat: while JetBlue expects to reach net zero by 2040, the real impact of its initiatives will only be felt by 2050 by when the airline expects the contribution of levers such as SAF to grow and carbon offsetting/removal to fall to a minimum.
1. Investing in SAF
In 2021, JetBlue used 0.19% SAF in their operations, and according to Bogdan, their consumption has since risen to 0.5%. By 2050, however, JetBlue expects SAF to comprise 51% of their carbon reduction strategy.
In order to meet this target, it is evident that the airline must significantly increase supply. A raft of new SAF agreements in the last year indicate that the airline recognises this: such as a deal with Shell to deliver 10 million gallons of SAF to LAX Airport over the next two years, and an agreement with AIR COMPANY for 25 million gallons of SAF.
Given these developments, Bogdan is confident that JetBlue can achieve their interim goal of 10% SAF by 2030.
2. Cutting emissions significantly via next-generation aircraft
JetBlue expects new-generation aircraft to constitute 26% of their emissions reductions. Bogdan says this figure does not include electric or hydrogen aircraft. She explains that JetBlue is hesitant to rely on emerging technologies that might not materialise.
Although not ruling out the potential inclusion of electric and hydrogen aircraft in their future fleet, JetBlue's roadmap is designed to achieve their goals using only existing technology.
The airline has already modernised its fleet to primarily include Airbus A220-A300 and Airbus A321neo models. The A321neo, in particular, with its 244-seat capacity, offers a 20% improvement in fuel efficiency per seat.
3. Crafting the ideal "green cabin" experience
JetBlue wants to use its cabin experience to communicate its sustainability efforts to its customers.
Bogdan states, "Customers can't see SAF; they can't see emissions." Tangible cabin improvements, however, can be noticed by customers.
In 2012, JetBlue began an on-board recycling program that includes in-flight sorting, and they now divert 30 million recycled bottles and cans every year. In 2021, they started eliminating single-use plastic where possible.
The airline's full cabin experience, including reusable dishware (a rarity in economy class) and napkins made from 100% recycled content, will be featured on their new transatlantic Mint flights. JetBlue is also working towards sourcing all of their raw materials from post-consumer materials.
4. Helping the industry raise the bar together
Bogdan asserts that separating growth from emissions requires a common vision among industry leaders. She notes an encouraging increase in support for initiatives.
One example is the White House's action plan to produce 3 billion gallons of SAF in the US by 2030, an initiative that aligns with JetBlue's own SAF goals.
Bogdan also sees JetBlue's role in setting higher standards for others. As JetBlue continues to expand and add new routes, she anticipates that the influence of the 'JetBlue effect' will prompt others to meet or exceed their sustainability standards.
"The rising tide will raise all the boats... Let's raise the bar together. I think we're going to have a compounding effect in the industry."
5. Merging with Spirit to challenge "the big four" 
In 2022, JetBlue announced a merger with Spirit Airlines, with the intention to form the 5th largest airline in the US. Since both JetBlue and Spirit operate on a low-cost business model, by joining together, they aim to pose a competitive challenge to the four major legacy airlines that currently dominate the US market. Valued at $3.8 billion, the merger is designed to enable JetBlue to extend its route network and gain access to Spirit's Airbus supply.
---
Thanks for listening to Sustainability in the Air! Subscribe for free to receive our updates straight in your inbox.
---
'Sustainability in the Air' is the world's leading podcast dedicated to sustainable aviation. Through in-depth conversations with top aviation leaders, we break through the clutter and provide a clear roadmap for a net-zero future.
This episode of the podcast is brought to you by Travelport, a global technology leader that powers bookings for travel suppliers worldwide. Their travel retailing marketplace, Travelport+, empowers travel retailers to understand and communicate the most sustainable travel options.