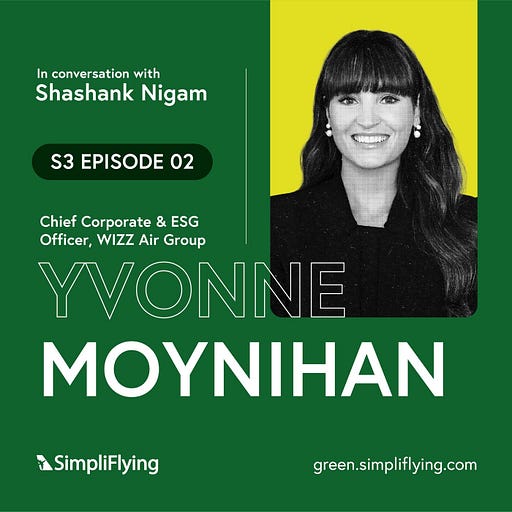 Feb 8 • 52M
The airline with the lowest CO2 emissions in Europe
In this episode, we talk to Wizz Air Group's Chief Corporate & ESG Officer, Yvonne Moynihan
Every week, Shashank Nigam, the CEO of SimpliFlying, talks to airline, airport, travel and technology executives to help make sense of the many paths to net zero, for an industry that is one of the hardest to decarbonize. Whether you're a frequent flier, an airline executive or just love travelling, if you care about sustainable global travel, then welcome aboard.
Welcome to Season 3 of Sustainability in the Air, the world's first podcast dedicated to sustainable aviation. Through in-depth conversations with top aviation leaders, we break through the clutter and provide a clear roadmap for a net-zero future.
---
Low-cost and ultra-low-cost carriers have been known to democratise air travel and enable more passengers to fly. With their low prices making it easier for people to take more flights, ultra-low-cost carriers (ULCCs) might seem diametrically opposed to the idea of sustainability. However, ULCCs are arguably often greener than most of their more pricey counterparts.
Hungarian low-cost airline Wizz Air has taken the ULCC model a step further to pursue growth and sustainability in tandem. The carrier has reduced its per-seat carbon footprint by 15% since 2019, despite having grown by 40% since the pandemic!
In this episode of our 'Sustainability in the Air' podcast, Wizz Air Group's Chief Corporate & ESG Officer Yvonne Moynihan speaks with SimpliFlying CEO Shashank Nigam and shares how the airline focuses on young travellers and undertakes radical measures and advocacy to stay ahead of its competitors.
You can listen and subscribe to our podcast on all major podcast platforms or read our deep dive into the episode below.
Reconciling the idea of growth with sustainability and getting to net zero (2:00)

Focusing on young travellers (7:05)

The three key pillars of Wizz Air's sustainability strategy (10:40)

Supporting the extension of EU-ETS to all departing flights (15:12)

Wizz's campaign to ban business class travel (17:50)

Wizz Air's offsetting program in partnership with Chooose (23:20)

Alliance for zero-emission aircraft and exploring hydrogen technology and propulsion (25:45)

Commitment to the SBTi targets and reducing the carbon footprint (27:47)

Carbon Removal Technology and SAF investments (31:30)

Hopes for aviation's journey to net zero (37:10)

Wizz Air's sustainability committee at a board level (39:50)

Rapid Fire! (40:35)
---
As an airline proud of its business model, Wizz Air firmly believes that traditional full-service carriers will by definition be unable to deliver a sustainability footprint similar to a ULCC. "Low-cost carriers can reduce your carbon footprint by approximately 33%", states Moynihan.
Sustainability Strategy: Fleet Renewal, SAF & Carbon Capture
Wizz Air's sustainability strategy focuses on decoupling CO2 emissions from its business growth. Most of Wizz's emissions reduction is due to its fleet renewal strategy, which it invested heavily in during the pandemic. The airline also lays strong emphasis on its business model, which also allows it to operate its routes much more efficiently compared to other carriers.
The overall strategy is underpinned by the following three pillars:
Fleet renewal and fuel efficiency in the short term: In the absence of other means to address sustainability, Wizz has invested in the Airbus A321neo. In Sep 2022, it confirmed a 75 aircraft order. The aircraft optimises fuel burn, emissions rate and operations at high load factors, offering both economic and environmental efficiency. With a fleet as young as 4.6 years on average, the airline has been able to cut emissions significantly. Moynihan also points out that an internal study conducted by Wizz demonstrated that the emulation of its fleet renewal strategy by other carriers in Europe would reduce emissions by 40% overnight.

Sustainable Aviation Fuel (SAF) in the medium term: Moynihan believes SAF to be the holy grail for aviation's pathway to sustainability. Currently, Wizz is exploring SAF supplies to guarantee compliance with the upcoming EU fuel mandates. The airline has even signed MoUs with OMV for the supply of up to 185,000 metric tons of SAF between 2023 and 2030. The airline is also looking into equity investments to support SAF production and research, which will also give it a structural advantage in terms of both cost and supply.

Technologies like carbon capture and zero emissions aircraft in the long term: Wizz Air strongly supports technology that can lead the airline – and the industry in general – to net zero. Technologies like carbon capture (read our report) and zero emissions aircraft (read our report) remain promising but are prohibitively expensive, especially for an ULCC. Moynihan states that tax breaks and incentives are needed to increase production and affordability. She says the EU currently lacks such carrots and offers sticks instead.
Wizz Air also offers voluntary carbon offsets through their partner Chooose, but they are not a part of the emissions reduction program.
"We're very much aware that doing the right thing is no longer a nice-to-have; it's a must-have. We have to take our customers, especially our young customers, and our employees, on our sustainability journey. And, of course, we also need to excite the consumer to do the right thing. Young travellers are a key target market. Even if Greta Thunberg doesn't believe so, there are still a lot more [young travellers] in the world who do want to continue to travel."
Wizz-ing past competitors and championing the young
As an airline focused on young travellers, Wizz has set up a Youth Forum specifically dedicated to sustainability. This allows the airline to collect feedback and insights that nudge it to take a stance and use its power to make a real impact. Wizz Air also has a young staff, and the average age of its 7,000 plus employees is nearly 28 years. This further nudges the airline to do the right thing, states Moynihan, as the younger generation is more aware and sensitive to the sustainability cause.
Wizz Air has been known to make bold moves. As a strong critic of business travel, the airline had launched a campaign in 2019 calling for a global ban on short-haul business class. Wizz had also publicly supported the extension of the EU Emissions Trading Scheme (EU ETS) scheme to all departing flights. The EU ETS is currently applicable only to flights entering Europe, and CORSIA applies to the rest. The EU-ETS is often criticised for excluding flights outside the EU, but, as Moynihan states, emissions don't stop at EU borders.
Wizz is also involved in the European Commission's Alliance for Zero-Emission Aviation (AZEA). The alliance is an industry-wide voluntary initiative launched by the European Commission to pave the way for next-generation sustainable aircraft. The airline has also signed an MoU with Airbus to further research the possibilities of zero-emissions hydrogen airplanes. Wizz Air's sustainability strategy and its cause-driven advocacy, Moynihan believes, puts them a decade ahead of most of their competitors.
Our Take
It is widely believed that growth is often pursued to the detriment of sustainability. Since aviation is known to be difficult to decarbonise, an airline's growth, and 40% at that, is often a point of contention. That said, Wizz Air does two things exceedingly well. First, through its fleet renewal programme, it adheres to the SBTi's short-term guidance and blows the competition out of the water — the airline claims to have the lowest emissions for any European airline (G/RPK).

Second, its sustainability communications are a stellar paradigm of how to get the message across to conscientious flyers. The airline has not only drawn a line by publicly decrying business travel as far back as 2019, but its website also does an excellent job of explaining its overall strategy in very simple terms. For example, Wizz Air washes its planes twice a year to reduce drag. This results in 0.2%-0.5% in emissions reduction and fuel savings.

What remains to be seen, however, is how the airline navigates the medium- and long-term aspects of emissions reduction. While new aircraft and high-density flying might statistically lower the carbon intensity, it is undeniable that lower fares, a fast-growing fleet and more passengers in the air are unlikely to add up to a net good. As a result, the best-case scenario remains the realisation of SAF supplies and newer low-emissions technologies, which at the moment seem too good to be true.
---
Our Sustainability in the Air podcast is powered by SimpliFlying which has been helping build trust in travel for over a decade.
This season of the podcast is brought to you by Cirium and CarbonClick. As a sustainability partner, Cirium helps the aviation industry gain a much clearer view of carbon emissions and develop methods to reduce them, enabling on the industry promise to fly sustainably. CarbonClick is the industry leader in managing transparent carbon offsetting programs for individuals and top global airlines.