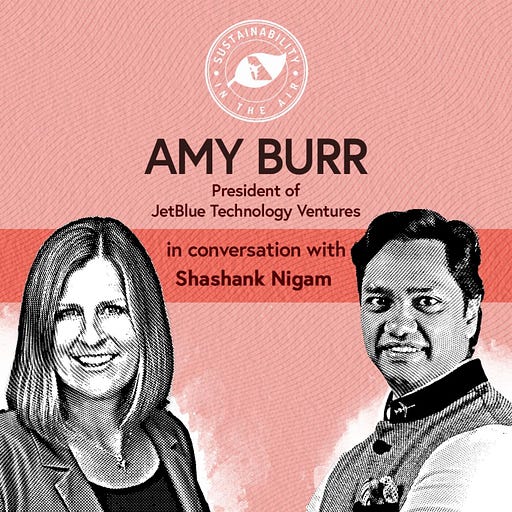 May 19, 2022 • 37M
Amy Burr on how JetBlue Technology Ventures is investing in the future of sustainable aviation
In this episode, we talk to JetBlue Technology Ventures' President, Amy Burr.
Every week, Shashank Nigam, the CEO of SimpliFlying, talks to airline, airport, travel and technology executives to help make sense of the many paths to net zero, for an industry that is one of the hardest to decarbonize. Whether you're a frequent flier, an airline executive or just love travelling, if you care about sustainable global travel, then welcome aboard.
Sustainability in the Air is the world's first podcast dedicated to sustainable aviation. Through in depth conversations with top aviation leaders, we break through the clutter and provide a clear roadmap for a net-zero future.
---
"We're looking at how technology will change the future and what opportunities are there for us to do our business better, and just be a better airline and provide a better product and a better experience for our customers through technology," says Amy Burr.
In this episode of our 'Sustainability in the Air' podcast, JetBlue Technology Ventures (JTV) President Amy Burr speaks with SimpliFlying CEO, Shashank Nigam, and shares how JetBlue's technology investment are aiding the aviation sector to make progressive moves towards sustainability.
You can listen and subscribe to our podcast on all major podcast platforms or read our deep dive into the episode below.
If you're rushed for time, you can also directly jump to your topic of interest by referring to these time-stamps:
COVID, Sustainability & Aviation (4:40)

JTV as a strategic investor (9:00 & 15:30)

Sustainability: the long-haul game (13:00 & 29:00)

Sustainability shouldn't be a competitive advantage (18:00)

On JetBlue using SAF (25:00)
---
COVID, Sustainability & Aviation
The COVID-19 pandemic has had devastating impacts on the aviation sector. Airlines have had to adapt to constantly changing travel restrictions, health and safety guidelines and changing consumer behaviour. In response to these challenges, JTV has invested in self-service technologies to minimise in-person interactions, thermal scanning facilities and UV technologies to clean aircrafts.
The pandemic was also instrumental in underscoring the need to put sustainability at the center of all business efforts. With traveling restrictions in place, the global emission levels saw a record reduction of about 7% in 2020. This gave the aviation industry the necessary impetus to scale up their sustainability efforts, Burr explains.
JTV as a strategic investor
JTV makes investments in startups based on their strategic and financial values. While they focus on making profitable financial returns, they also make strategic investments in technologies. Their investments go beyond the technologies that would only help JetBlue. They are committed to finding long-term solutions for the entire aviation industry. By doing so, they also help JetBlue stay ahead in the game. For example, in 2017, JetBlue invested in the eVTOL (electric vertical take-off and landing) company, Joby aviation. This was long before Joby was ready to fly an aircraft!
JTV does their due diligence in picking the startups they invest in. They focus on the startup's solutions employed, viability, growth potential and company structure. They also encourage their startups to collaborate with other airlines to find new and improved decarbonising solutions.
"…each startup that we bring into our portfolio, or each startup that we bring to JetBlue, should be compelling for either now or for the future, it could change the travel industry itself, it could change JetBlue in how we do business. Some of our startups aren't working with JetBlue, but they are providing benefits for the industry. …We're here to make travel better, and some of that, means it's a little bit further out, and we're trying to make sure we stay ahead of disruption in the industry…"
Sustainability: the long-haul game
Serving as the periscope to the future of aviation technologies, JTV helps JetBlue attain their pledged goal of achieving carbon-neutrality by 2040 - 10 years before the set industry target. This, Burr explains, is achievable by investing in both long-term and short-term solutions.
In Burr's opinion, Carbon Offsetting is a short-term solution that is bound to become unviable soon. Long-term solutions to the sustainability challenge involve investing in next-generation technologies. JTV's long-term strategy involves four main technological solutions:
Alternative propulsion systems that use Hydrogen to power the aircraft.

Electric Propulsion systems & Electric Hybrid Aviation Aircraft for small aircraft operators at a regional level.

Direct Air Capture to pull carbon from the air and use it to make fuel.

Bio Sustainable Aviation Fuel that uses alternative feedstock.
By early investments in these technologies, JTV helps these startups grow and also plays a vital role in steering these technologies in the direction of sustainability.
Our Take: Eco-innovations
Eco-innovations refer to technologies that minimise environmental risk, pollution and other negative outcomes of resources use when compared to their relevant alternatives. Moreover, such innovations mitigate the environmental impacts at every stage of their life-cycle. The "diffusion" (adoption) of these innovations requires technological, organizational, social and institutional changes

.

With the growing concerns of climate change, there has been an increased focus on making aviation sustainable. New technologies like hydrogen-based fuels and direct air capture have been born out of the need to decarbonise air travel. This, coupled with the customers' preference to fly sustainably, presents a strong case for promoting eco-innovations. However, these two factors need to be supported with necessary regulation to push these innovations onto the center-stage.

The early investments from JTV gives these innovations necessary capital and infrastructure, the lack of which would severely affect their progress. Moreover, JTV plays a vital role in ensuring that these technologies continue to qualify as "eco-innovations" as they develop.

Given the complexity of the sustainability challenge, the solution requires an assortment of technologies to co-exist. To achieve this, it is essential for firms to continue to innovate to find novel and viable solutions. In this context, JTV's approach to sustainable innovations sounds quite pragmatic. They have embraced the uncertainties associated with the process and are making dedicated efforts to improve the aviation ecosystem. Overall, JTV's outlook towards sustainability makes one quite hopeful about the future of the aviation industry.
---
Our Sustainability in the Air podcast is powered by SimpliFlying which has been helping build trust in travel for over a decade.
This season of the podcast is brought to you by CarbonClick, leaders in managing carbon offsetting programs for top global airlines.
1
Rennings, K. (2000) 'Redefining innovation — eco-innovation research and the contribution from ecological economics', Ecological economics, 32(2), pp. 319–332. doi:10.1016/S0921-8009(99)00112-3.