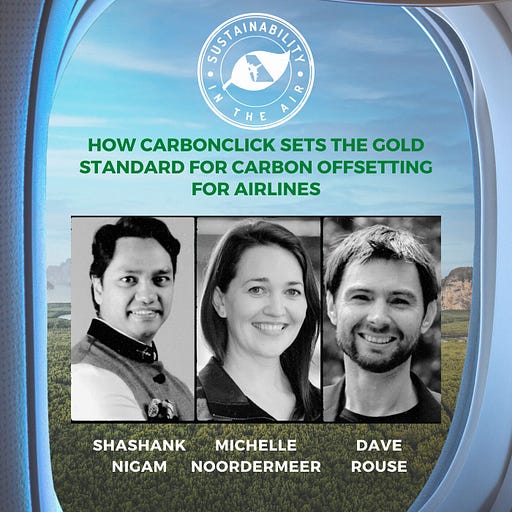 Apr 28, 2022 • 38M
How CarbonClick sets the gold standard for carbon offsetting for airlines
In this episode, we talk to CarbonClick's CEO Dave Rouse and COO Michelle Noordermeer.
Every week, Shashank Nigam, the CEO of SimpliFlying, talks to airline, airport, travel and technology executives to help make sense of the many paths to net zero, for an industry that is one of the hardest to decarbonize. Whether you're a frequent flier, an airline executive or just love travelling, if you care about sustainable global travel, then welcome aboard.
Sustainability in the Air is the world's first podcast dedicated to sustainable aviation. Through in depth conversations with top aviation leaders, we break through the clutter and provide a clear roadmap for a net-zero future.
---
"We only get one shot at fighting climate change. So we've got to do everything that we can possibly do", says Michelle Noordermeer, COO, CarbonClick.
Carbon offsetting is one of the most popular means for airlines to achieve carbon-neutrality today. In this episode of our 'Sustainability in the Air' podcast, CarbonClick CEO Dave Rouse and COO Michelle Noordermeer speak with SimpliFlying CEO, Shashank Nigam, and share how radical transparency and building trust is vital for airlines to implement carbon offsetting programs.
You can listen and subscribe to our podcast on all major podcast platforms or read our deep dive into the episode below.
If you're rushed for time, you can also directly jump to your topic of interest by referring to these time-stamps:
Carbon Offsetting — the CarbonClick way (7:20)

Building effective offsetting programs (9:30)

How CarbonClick ensures good offsets (13:50)

Radical transparency & doing things differently (17:46) & (25:00)

Lessons from cargo airlines & eCommerce (26:00)

Advice to airlines starting out with sustainability (32:40)
---
Carbon Offsetting – the CarbonClick way
Carbon offsetting programs are not easy to design and implement. Despite their popularity, the uptake remains extremely low.
"Even with nearly 50% of the airlines offering voluntary carbon offsetting programs, it is estimated that globally only about 1% of travellers opt for it. "
CarbonClick has identified three key reasons for the low take-up rate.
Often, offsetting programs are not integrated into the booking flow - this severely affects the take-up.

Offsetting projects are not properly explained and/or do not resonate with people.

People don't always trust airlines and are skeptical about the outcomes of the projects.
Using this diagnosis, CarbonClick has been able to help airlines build brand loyalty and increase the re-purchase rates of the offsets.
Building effective offsetting programs
CarbonClick emphasises the quality of the offsetting projects, taking into account the future benefits, impacts and the extent to which the impact of flying can be neutralised. "We're doing what we can to try and raise the bar and bring some consistency and awareness to the types of offsets", states Rouse.
Rouse & Noordermeer assert that voluntary offsets allow airlines to continue to have competitive prices. However, since many customers treat offsets as donations, it is important to promote projects that tug at their heartstrings.
Customers need to be convinced about the efficacy, long-term impacts, social benefits and integrity of the offsets they are putting their money into.
How does CarbonClick ensure good offsets?
The lack of a common standard for carbon offsets makes it difficult to assess their quality.
To ensure the authenticity of the projects, CarbonClick adds an additional auditing layer. They visit project sites and validate their permanence, additionality and social impacts. They also check for leakages like the project's impact on other land-use activities and double counting. These are important considerations that determine the efficacy of carbon offsets.
To perform these evaluations, CarbonClick partners with organisations across the world. For example, they have partnered with WWF to assess biodiversity impact on endangered species. With this collaboration, CarbonClick aims to perform comprehensive background checks to prevent any unintended consequences. Having received a B Corp certification, they also use rigid fair trade and ethical principles to identify better suppliers and, consequently, better projects.
"Most governments around the world have declared a climate emergency. [Therefore] the rate of change, the decision making that traditionally exists within large organisations needs to be treated like we're in a climate emergency. We need to fast track these initiatives." - (Dave Rouse, CEO, CarbonClick)
Radical transparency & doing things differently
CarbonClick operates on the principle of full transparency and provides users with a complete audit trail of their purchase down to the offset registry.
The offsets are purchased in advance, allowing users to see those details the moment they offset their flight! The Etihad Conscious Choices program that utilises these methods has been quite popular among users.
Customers are more likely to take up offsets if they are used to complement other approaches such as investing in Sustainable Aviation Fuel (SAF), upgrading aircraft technologies, and increasing fuel efficiency.
In addition, providing them with detailed, independently verified receipts of their offsets tends to create a positive post-purchase customer experience that is likely to increase repurchase rates by 7%-13%!
CarbonClick also ensures the accuracy of its calculations by ensuring that they are aircraft specific. They use RDC Aviation's methodology and data to calculate and update emissions on a monthly basis. They also use airline specific factors such as aircraft age, engine time and seat configurations to determine the exact amount of emissions to be offset.
Advice to airlines starting out with sustainability
CarbonClick believes that the sustainability challenge needs to be embraced openly and honestly. Decarbonising aviation would require a collaborative effort. It would involve knowledge sharing about newer technologies, SAF and fuel efficient aircraft. Airlines must also encourage customers to travel direct, light and via economy class as much as possible.
Until technologies like SAF are completely viable, airlines will have to rely on carbon offsets to fill the gap. So it's important that airlines remain transparent, offer quality offsets, and share the offsetting project's impact to build a community of conscious consumers who want to take action.
Our take: Nature as a service-provider
Carbon offsetting allows people to neutralise their carbon footprint by investing in an environmental project that removes an equivalent amount of carbon. In principle, it seeks to achieve carbon neutrality. Its efficacy in putting this to practice, however, is hotly debated.
Carbon Offsetting is a market-based solution to reducing carbon emissions. Market-based solutions posit that markets are powerful agents to combat climate change. Unlike the slow-paced state-based interventions, markets are considered quick and efficient in their functioning. Markets function through prices and in order for them to work for environmental issues, Nature and all the functions it performs ("services") must be valued in economic terms. This reduces Nature to a "service-providing entity" (Sullivan, 2013).
The commodification of Nature paves the way for Payment for Ecosystem Services (PES). PES asserts that every service rendered by Nature must be paid for. All environmental concerns are "framed, banked, traded, circulated, and speculated on as forms of capital"
. It also assumes Nature as "fungible" or composed of substitutable units that we can continue to shift around as long as the sum total remains the same. So, environmental damages (losses) caused by polluters can be balanced out by equivalent environmental gains in order to restore a balance. As an example, through Carbon-offsetting, carbon emissions in one location can be compensated by sequestration in another.
The idea behind market-based solutions to sustainability is to meet the objectives of economic development and ecological conservation to create a win-win situation. Putting this to practice however, is not as straight-forward.
It requires a complete economic restructuring and a lot of work from actors, new regulations and incentives.
Markets are designed to operate in stable, predictable conditions. Given the current state of uncertainty around climate change, market-based solutions need to be tweaked to keep up with the challenge. In this regard, CarbonClick's efforts to continuously improve their programs is quite laudable. For CarbonClick, offsetting isn't just about achieving carbon neutrality. They ensure that the means to that end are ethical, pragmatic and without any adverse impacts.
As Rouse & Noordermeer point out, decarbonising aviation is challenging and requires concerted efforts across the airline system. Carbon Offsets and market-based mechanisms, in general, provide a good starting point towards this.
However, we need to be mindful of pernicious outcomes. CarbonClick's dedication to continuously improving the radical transparency of their programmes and their efforts to do the right thing is a welcome ray of hope for the aviation industry.
---
Our Sustainability in the Air podcast is powered by SimpliFlying which has been helping build trust in travel for over a decade.
This season of the podcast is brought to you by CarbonClick, leaders in managing carbon offsetting programs for top global airlines.
1
Sullivan, S. (2013) 'Banking Nature? The Spectacular Financialisation of Environmental Conservation', Antipode, 45(1), pp. 198–217. doi:10.1111/j.1467-8330.2012.00989.x.