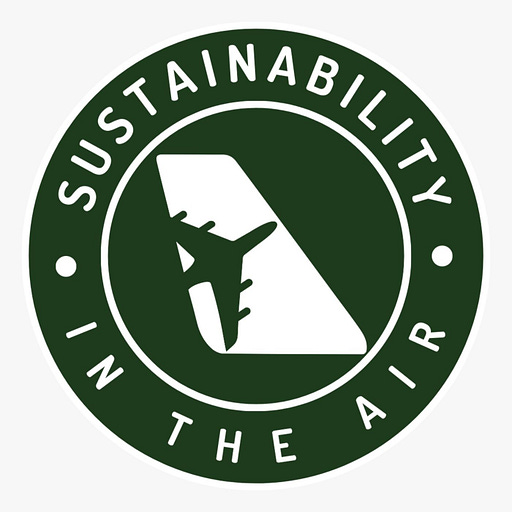 Jun 1 • 47M
Delta's sustainability push is powered by a surprising customer insight
In this episode, we talk to Amelia DeLuca, Delta Air Lines' Chief Sustainability Officer.
Every week, Shashank Nigam, the CEO of SimpliFlying, talks to airline, airport, travel and technology executives to help make sense of the many paths to net zero, for an industry that is one of the hardest to decarbonize. Whether you're a frequent flier, an airline executive or just love travelling, if you care about sustainable global travel, then welcome aboard.
In this episode of our 'Sustainability in the Air' podcast, Delta Air Lines' Chief Sustainability Officer, Amelia DeLuca speaks with SimpliFlying CEO Shashank Nigam and shares the airline's collaborative vision for sustainability:
Customer satisfaction & sustainability - using NPS data to drive sustainable solutions (3:41)

Pursuing sustainability beyond just its environmental aspect (9:10)

Lessons from The Sustainable Flight Challenge (12:36)

Challenges and scaling up of sustainable aviation fuel (20:56)

Contrail reduction study with MIT (24:37)

The Delta Sustainable Skies Lab for accelerating sustainable innovations (26:53)

Amelia's journey into sustainability (33:21)

Hopes for the future (37:59)

Rapid Fire! (39:50)
Amelia's journey into sustainability has been fascinating. During the COVID-19 pandemic, she led the challenging job of handling Delta's customer care. Following this, she began exploring opportunities in sustainability, combining it with her passion for customer service "to deliver solutions that build brand trust and loyalty". 
---
---
Why collaboration matters
Sustainability in aviation cannot be pursued in isolation. The sheer lack of readily available alternatives makes it essential to embark on the journey collectively. Collaboration across the industry is key. 
Delta's sustainability efforts collectively embody this spirit to hasten the journey to net zero:
The airline uses NPS data to understand customer demands and to implement solutions — nearly 4.9 million pounds of single-use plastics were eliminated based on customer feedback. Eco-friendliness also builds trust and loyalty.

Delta's Sustainable Skies Lab inspires employees, partners and students and fosters internal and industry-wide innovations. For example, operational optimisations resulted in fuel savings of over 10 million gallons in 2022. Delta's resources and capabilities have also aided the development of Joby Aviation's eVTOL "air taxis".

DeLuca's personal journey in sustainability was possible through teamwork and cooperation from her peers at other airlines. The true spirit of sustainability, after all, is not competition but care and conviviality. 

Encouraging energy bigwigs to ramp up SAF production while supporting smaller innovators like Gevo.
While the industry has a ways to go to meet its net zero targets, it is important to remember that it is a road that cannot be traversed alone. Concerted efforts across the industry are the need of the hour.
5 sustainability questions you always wanted to ask Delta Air Lines
1. Do airline passengers care about sustainability?
The short answer: yes. 
As travellers increasingly become environmentally conscious, an airline's sustainability efforts become an important factor to drive customer satisfaction. DeLuca points to the brand-tracking reports that Delta regularly puts out: "If customers connect with a sustainability activity, they're more likely to come back as a repeat customer and have trust in that brand," she says. 
In fact, when Delta began embedding sustainability throughout their operations, the Net Promoter Score (NPS) data indicated a tangible improvement in brand health. The uptick was especially significant among the climate-conscious demographic of flyers aged 35 and under. This segment, DeLuca explains, is especially important as it comprises potential future frequent flyers whose trust and relationship with airlines depend significantly on the climate action the industry takes today. 
2. Does sustainability mean focusing only on environmental impact?
Holistically, sustainability goes beyond just the environmental aspect. Delta has incorporated this idea by including the social paradigm in its products, says DeLuca. Uplifting lesser-known brands, empowering communities, focusing on supplier diversity and sourcing products locally wherever possible are some of the ways in which Delta puts this into action.  
Last year, Delta partnered with Mexican apparel brand Someone Somewhere to design sustainable amenity kits. The kits were made using textiles from the traditional chicotillo loom, a craft passed down through generations. This generated jobs for over 250 people in five of Mexico's most vulnerable states, while keeping alive a centuries-old regional style of weaving. The kits credited the artisans and contained a QR code that customers could scan to send them a note. 
"We're making sure that the products that come into the plane are made and sourced as sustainably as possible. We have also removed as much single-use plastic as possible from those amenity kits. And now we're starting to move to the next generation of sustainability onboard: waste management."
3. How can Sustainable Aviation Fuel (SAF) be scaled to meet global demand?
As part of the Clean Skies for Tomorrow Coalition, Delta has committed to achieving 10% SAF usage by 2030. To meet that goal, DeLuca says there's an urgent need to scale SAF production, which is currently insufficient for global demand. As of now, Delta's commitment for 200 million gallons of SAF offtakes with various partners will fulfil half their needs for 2030.
DeLuca suggests three key ways for the industry to meet its SAF goals:
By encouraging large-scale legacy energy companies to ramp up their production of SAF while supporting smaller innovators such as Delta partner Gevo.

Greater local and state government involvement, such as the recent tax incentives in California and Minnesota that aim to spur investment in SAF.

By nurturing and promoting partnerships with their corporate and cargo customers who can use their SAF investment to meet their own Scope 3 emissions goals.
"There's a lot of debate about SAF – what are the right attributes; what kind of SAF is better than other SAF, and so on. And as we move to 2050, we're certainly going to see an evolution of SAF towards fuels that have zero emissions, are made synthetically, don't touch land and use renewable energy. But we have a long way to go. So let's just figure out some wonderful, scalable interim solutions."
4. How can persistent airplane contrails be eradicated?
In October 2022, Delta announced that it will collaborate with the Massachusetts Institute of Technology (MIT) to study the environmental impact of airplane contrails, specifically persistent ones that contribute significantly to global warming. 
Contrails are condensation trails left by aircraft, composed of ice crystals. They contribute to climate change by trapping heat in the atmosphere. Possible solutions to eradicate them include flying at different altitudes – potentially reducing aviation's climate impact by 80%. Delta says the study will harness an MIT-created algorithm that predicts altitudes and locations where contrails are likely to form. 
"One of the things I am really excited about is that the findings will be made available through an open-source license. These will not be a competitive differentiator but will be scaled and made available to the industry as quickly as possible."
5. How will Delta's Sustainable Skies Lab contribute to its net zero efforts?
In January 2023, Delta announced an innovation lab to "accelerate research, design and testing for a more sustainable future of air travel". DeLuca says the lab will not only enable disruptive innovation but also help scale it so that it can be used by Delta as well as the industry at large. 
"We want the next generation – students from around the world – to come and participate in solutions. We'll help groups who are already doing great work to take it to the next level, or to come together to collaborate. And then, obviously, we want to attract the next generation of doers." 
The lab will have four key objectives:
To foster an internal culture of innovation across departments, helping them showcase their sustainability efforts. 

To supercharge the power of collaboration by making Delta's resources and capabilities available to disruptors and innovators. Existing partners include Joby Aviation whose eVTOL "air taxis" are expected to enter service in 2025.

To test optimisation concepts that can reduce the impact of their operations. For example, Delta is working with Aero Design Labs' novel technology to reduce the drag and emissions of their Boeing 737-800 and 737-900 fleets. 

To build a physical Ideation Studio for people to experience the latest cutting-edge concepts and solutions for a glimpse at the future of sustainable air travel.
---
Thanks for listening to Sustainability in the Air! Subscribe for free to receive all new episode deep dives straight to your inbox.
---
'Sustainability in the Air' is the world's leading podcast dedicated to sustainable aviation. Through in-depth conversations with top aviation leaders, we break through the clutter and provide a clear roadmap for a net-zero future.
This episode is a part of our SkyTeam special series. In this series, we will highlight SkyTeam member airlines participating in The Sustainable Flight Challenge and bringing sustainability into flight operations today.
1
Baumeister, Stefan, et al. "Does airlines' eco-friendliness matter? Customer satisfaction towards an environmentally responsible airline"" Transport Policy 128 (2022): 89-97.