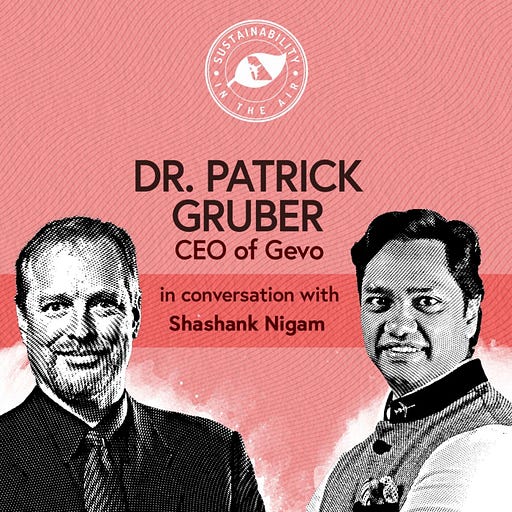 May 26, 2022 • 42M
How Gevo is making Sustainable Aviation Fuel technology viable for airlines
In this episode, we talk to Gevo's CEO, Dr. Patrick Gruber.
Every week, Shashank Nigam, the CEO of SimpliFlying, talks to airline, airport, travel and technology executives to help make sense of the many paths to net zero, for an industry that is one of the hardest to decarbonize. Whether you're a frequent flier, an airline executive or just love travelling, if you care about sustainable global travel, then welcome aboard.
Sustainability in the Air is the world's first podcast dedicated to sustainable aviation. Through in depth conversations with top aviation leaders, we break through the clutter and provide a clear roadmap for a net-zero future.
---
In this episode of our 'Sustainability in the Air' podcast, Dr. Patrick Gruber, CEO of sustainable aviation fuel company Gevo, speaks with SimpliFlying CEO, Shashank Nigam.
You can listen and subscribe to our podcast on all major podcast platforms or read our deep dive into the episode below.
If you're rushed for time, you can also directly jump to your topic of interest by referring to these time-stamps:
SAF - an emerging solution (2:06)

Making SAF the Gevo way (3:34)

Carbohydrates as feedstock (9:00)

Scaling up SAF (15:20, 25:30 & 29:00)

Verity Tracking (20:00)

Advice to CEOs starting out with sustainability (37:00)
---
Sustainable Aviation Fuel
Amid growing concerns of climate change, the aviation industry is in dire need of sustainable low-carbon alternatives to jet fuel. Sustainable aviation fuel (SAF) has emerged as a promising solution to address these concerns. Gruber explains that SAF technology has existed for quite some time but its recent popularity can be attributed to two major factors: the evolution of carbon markets and the rise of conscious consumers.
Carbon valuation in the marketplace has made significant headway over the last decade. With carbon pricing being implemented in Canada, EU's Renewable Energy Directive (RED) directives and USA's Low Carbon Fuel Standards (LCFS), carbon markets have received quite the regulatory support to flourish. Consumers have also become more environmentally-conscious. These two factors have given the existing SAF technology the necessary window of opportunity to grow.
Making SAF - the Gevo way
Alternatives to jet fuel, Gruber explains, need to be carbon-reducing, "drop-in" fuels. Drop-in fuels are the functional equivalent of jet fuels and can be used without altering the existing infrastructure. Manufacturing these fuels requires a significant amount of energy. Gevo ensures that these energy sources are renewable, thereby avoiding a massive chunk of carbon emissions from grid electricity. They employ a systems approach to capture carbon at every step of the production process.
Gevo primarily uses sustainably sourced carbohydrates like residual cornstarch as the feedstock. The effect of biofuels on food security has always raised several concerns. It is believed that the increasing biofuel demand results in reduced food supply and high prices, invariably hurting the poor and marginalised. Gruber dismisses these concerns. He points out that Gevo uses carbohydrates which currently suffer from an oversupply. Furthermore, the carbohydrates are sourced from corn, only 1% of which is currently used for human consumption in the US.
In Gruber's opinion, building capacity for SAF production is not a constraint. It's the limited feedstocks, financing and deployment of assets. He states that the SAF is still at an infancy stage where its demand needs to be built.
Verity Tracking
In line with their principle of transparency, Gevo uses blockchain to track the sustainability of products. Called Verity Tracking, the program uses Farmer's Edge's precise farming database to measure and track carbon intensity throughout the SAF life-cycle. It comprises the following:
Verity Tracking monitors the sustainability of the farms that provide the feedstock to supply renewable-fuel production.

Monitoring agricultural practices of suppliers to ensure yield and sustainability. This gives Gevo the ability to pass this information to the consumers.

Gevo also tracks its own energy use by amount and type through the Verity tracking system.
All these components will help Gevo set up a rewards-based value chain system that will be applicable to all their products.
"…everybody wants a universal solution, it just isn't going to work that way, it's going to take all the answers, and it's going to work out in different regions, there's no one size fits all."
Advice to CEOs starting out with sustainability
Gruber encourages CEOs to have a thorough grasp of their business system, the operating costs, expenditures, sustainability footprint and the energy mix deployed. He also advises them to be radically transparent about their business ventures since it greatly fosters trust.
Our take: Emissions Trading & LCFS
One of the primary reasons for the increasing popularity of SAF, as Gruber pointed out, is the evolution of carbon markets. Pricing carbon is used as a key regulatory strategy to combat anthropogenic climate change. The underlying principle behind pricing carbon is to account for GHG emissions' negative external costs (or negative externalities). These externalities are costs incurred by the public due to these emissions. For example, losses from crop failure or health care costs due to the effects of pollution.

One of the most popular carbon pricing approaches is the emissions trading system (ETS). ETS provides an economic incentive to polluters to comply with predefined emission targets (known as a "cap"). An example of the ETS is California's Low-Carbon Fuel Standard (LCFS) that operates under the state's cap-and-trade program. To reduce the reliance on carbon-intensive fuels, the LCFS aims to reduce GHG emissions in California to 1990 levels by 2030. To do so requires fuel providers to reduce their Carbon Intensity (CI) by 20% by 2030.

CI measures the grams of carbon dioxide equivalent per Megajoule of energy (g CO2e/MJ). Under the LCFS, low-carbon fuels below the benchmark generate credits, while fuels above the CI benchmark generate deficits. Manufacturers with deficits can buy credits from lower-carbon fuel suppliers. Gevo receives tax credits from the LCFS, a part of which they share with their customers.

The LCFS has shown great promise over the years for fuel diversification. However, there has been an increase in corn and sugarcane ethanol feedstock prices which is likely to affect the costs and possibly fluctuate trading prices.

Another concern about biofuels is the emissions from indirect land use change (ILUC) due to market-mediated conversion of land from a native ecosystem. Griffin et al.

state that if a bushel of corn is diverted from meeting food or other demands to being used as a feedstock for ethanol production, "the diversion could increase crop prices and induce land conversion to help meet preexisting grain demands". This further destroys ecosystems, and poses a significant challenge to the efficacy of the LCFS.

LCFS has been controversial due to its inclusion of ILUC in its CI standards. Proponents see it as a great first step towards accounting for the necessary externalities. Scientists and researchers call it an inept system that fails to account for uncertainties.

The scaling up of SAF anytime soon seems quite a challenge despite its available capacity, as Gruber pointed out. While there are underlying concerns about the regulatory mechanism supporting SAF production, at the company's level, Gevo's systemic approach to reducing carbon emissions at every step is quite laudable. Their cooperative approach and efforts towards transparency are illustrative of the essence of sustainability.
---
Our Sustainability in the Air podcast is powered by SimpliFlying which has been helping build trust in travel for over a decade.
This season of the podcast is brought to you by CarbonClick, leaders in managing carbon offsetting programs for top global airlines.
1
Griffin, W.M., Saville, B.A. and MacLean, H.L. (2016). Ethanol Use in the United States: Status, Threats and the Potential Future. Global Bioethanol, pp.34–62. doi:10.1016/b978-0-12-803141-4.00002-2.