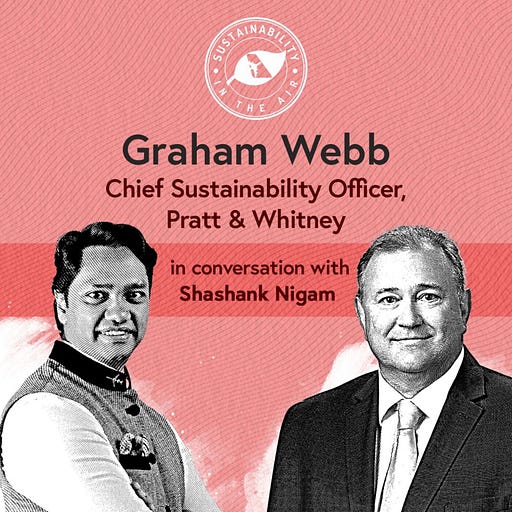 Jun 9, 2022 • 37M
How Pratt & Whitney is helping airlines achieve net-zero targets
In this episode, we talk to Pratt and Whitney's Chief Sustainability Officer, Graham Webb.
Every week, Shashank Nigam, the CEO of SimpliFlying, talks to airline, airport, travel and technology executives to help make sense of the many paths to net zero, for an industry that is one of the hardest to decarbonize. Whether you're a frequent flier, an airline executive or just love travelling, if you care about sustainable global travel, then welcome aboard.
Sustainability in the Air is the world's first podcast dedicated to sustainable aviation. Through in depth conversations with top aviation leaders, we break through the clutter and provide a clear roadmap for a net-zero future.
---
Pratt & Whitney is a world leader in the design, manufacture and service of aircraft engines and auxiliary power units. They are keenly attuned to the climate crisis and are currently focusing on improving engine efficiency and reducing carbon emissions.
In this episode of our 'Sustainability in the Air' podcast, Pratt and Whitney's Chief Sustainability Officer, Graham Webb speaks with SimpliFlying CEO, Shashank Nigam, and discusses the company's sustainability strategy.
You can listen and subscribe to our podcast on all major podcast platforms or read our deep dive into the episode below.
If you're rushed for time, you can also directly jump to your topic of interest by referring to these time-stamps:
The role of engines in achieving net-zero (3:30 & 6:30)

Sustainable Aviation Fuel (8:00 & 10:40)

Using Hydrogen to power airplanes (18:00)

Defining industry standards (13:00 & 16:00)

Hybrid electric technology (26:50)

Advice to CEOs starting out with sustainability (32:00)
---
Role of engines in achieving net-zero
Engine efficiency plays a critical role in reducing CO2 emissions in the medium- and long-term. With air travel expected to grow significantly over the next two decades, it is essential for airplanes to have efficient engines. To this end, Pratt & Whitney (P&W) operates on an efficiency improvement timeline to improve their product efficiency by 1%-1.5% per year.
In 2016, P&W introduced the Geared Turbofan Engine which enabled the engine's fan and turbo machinery to operate at peak efficiency. This improved the overall fuel efficiency by 16%-20%. According to Webb, the engine has helped save 700 million gallons of fuel, cutting 7 million metric tons of CO2 emissions to date!
Sustainable Aviation Fuel
Sustainable Aviation Fuel (SAF) is considered a critical stepping stone for airlines to achieve their sustainability targets. However, the low availability and high prices of SAF make it an unviable solution at the moment. Moreover, using SAF could also require tweaking the existing engine infrastructure which will further add to the cost incurred. Bearing this in mind, P&W has been adapting their engines to run on 50% SAF blend since 2006. They are now working towards increasing the engine compatibility with SAF to 100%.
To overcome the high costs associated with adjusting engines to accommodate SAF technology, drop-in fuels are recommended. Drop-in fuels are compatible with incumbent engine structures, thus minimising operational complexity.
Webb also points out that there are no industry standards around 100% SAF and drop-in fuels. Defining such standards would require cooperative collaboration between regulatory bodies and the manufacturers, he states. The regulatory bodies would ensure the safety and capability for all users while the manufacturers would help define the compatibility of fuels with various aircraft.
Using Hydrogen to power airplanes
Hydrogen technology is seen as a promising alternative to carbon-intensive jet fuels. P&W uses sustainably sourced green hydrogen to power fuel cells and hybrid electric technologies.
Despite the advances in hydrogen tech, fuel cell technology's capability is still quite limited. The specific power and energy of the fuel cells are low compared to those of jet fuel. In Webb's opinion, substantial advances are needed to develop lightweight fuel cells that can be used in large aircraft.
For hybrid electric propulsion systems, P&W uses liquid green hydrogen. They convert it to gas and capture steam and a significant amount of energy in the process. This steam is used to control the flame speed of hydrogen and to reduce NOx emissions by cooling down the engine.
The major issue with hydrogen, however, is its large volume — more efficient engine systems are needed in future to reduce fuel consumption.
"…efficient engines will give the airline operators the best fuel efficiency available to ensure that aviation can grow and spread the economic and social benefits as sustainably as possible and also achieve our net zero objectives in the same timeframe."
Advice to CEOs getting started with sustainability
Webb advises CEOs to make sustainability decisions based on their fleet composition. He encourages them to renew their older fleet to more efficient and sustainable engines like the geared turbofan engines.
He emphasises the need to engage in and support policies that build and enhance the production of SAF. By doing so, CEOs can contribute to better procurement techniques and appropriate pricing of SAF. Webb also encourages CEOs to always be on the lookout for newer, efficient technologies that will help push the aviation sector in a more sustainable direction.
Taking on the sustainability challenge, Webb asserts, would require the entire aviation ecosystem to be aware and well educated about the problem. Only then can the industry function as a collective to drive necessary change. He also believes that it is imperative to encourage and support new and disruptive innovations to achieve the net-zero goals.
Our Take: Collaboration not competition
As Webb points out, transitioning to low carbon technologies requires collective efforts across the aviation sector. Educating and bringing about awareness about the severity of the sustainability challenge provides a strong basis for this systemic change

.

Another point to note is that there will never be a one-size-fits-all answer to the issue at hand. We require a multiplicity of solutions. Moreover, we need to continually work on more innovative solutions and technologies to enable airlines to achieve their 2040 net-zero goals.

Pratt & Whitney is leading the way for the aviation sector to become more sustainable. Their approach towards steering the industry towards low carbon technologies gives one quite a bit of hope about the future of aviation.
---
Our Sustainability in the Air podcast is powered by SimpliFlying which has been helping build trust in travel for over a decade.
This season of the podcast is brought to you by CarbonClick, leaders in managing carbon offsetting programs for top global airlines.
1
Griffin, W.M., Saville, B.A. and MacLean, H.L. (2016). Ethanol Use in the United States: Status, Threats and the Potential Future. Global Bioethanol, pp.34–62.