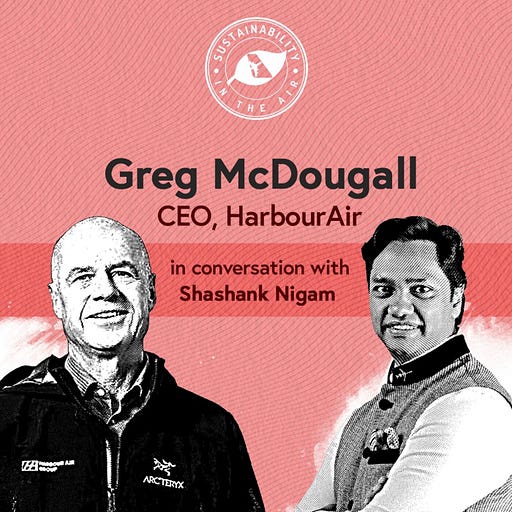 Jun 2, 2022 • 41M
How Harbour Air is revolutionising aviation with their electric aircraft technology
In this episode, we talk to Harbour Air Seaplanes' CEO, Greg McDougall.
Every week, Shashank Nigam, the CEO of SimpliFlying, talks to airline, airport, travel and technology executives to help make sense of the many paths to net zero, for an industry that is one of the hardest to decarbonize. Whether you're a frequent flier, an airline executive or just love travelling, if you care about sustainable global travel, then welcome aboard.
Sustainability in the Air is the world's first podcast dedicated to sustainable aviation. Through in depth conversations with top aviation leaders, we break through the clutter and provide a clear roadmap for a net-zero future.
---
In this episode of our 'Sustainability in the Air' podcast, Harbour Air Seaplanes CEO, Greg McDougall, speaks with SimpliFlying CEO, Shashank Nigam, and shares how Harbour Air is paving the way for sustainable aviation through their innovative electric aircraft technology.
You can listen and subscribe to our podcast on all major podcast platforms or read our deep dive into the episode below.
If you're rushed for time, you can also directly jump to your topic of interest by referring to these time-stamps:
Harbour Air & the early adoption of technology (1:30 & 4:20)

The Electric Beaver (6:30)

Carbohydrates as feedstock (9:00)

Electrification - challenges & the road ahead (10:30 & 26:00)

Carbon neutrality & Offsetting (15:00)

Advice to regional airlines (19:30 & 36:00)

NASA's collaboration with MAgniX (29:00)

COVID, Supply chain issues & Regulatory support (32:00)
---
In December 2019, Harbour Air Seaplanes flew the world's first fully-electric commercial aircraft. Before this, electric planes, though considered a promising sustainable alternative to jet-fuel reliant aircraft, were largely an abstract concept. Making electric planes a feasible reality can be attributed to Harbour Air's resolve to be an early adopter of disruptive technologies.
What makes Harbour Air unique
Harbour Air is a regional seaplane airline comprising only float planes that fly off the surface of water. The short stage lengths of their flights coupled with mostly single-engine aircraft leads to low energy consumption and lower carbon burn, ensuring a low carbon footprint. McDougall explains that the airline retrofits their older-but-updated aircrafts since the airframes are certified and economically more viable than building a clean sheet aircraft.
Since they mostly operate along the coastline, Harbour Air is mindful of the environmental impacts it has on their neighbourhoods. They have adopted technologies to mitigate the harmful effects of their operations.
The Electric Beaver
McDougall has been a long-time proponent of the idea of electrifying aviation. Harbour Air's opportune collaboration with MagniX and H55 is pushing that idea towards reality.
Back in 2019, Habour Air partnered with MagniX to develop the electric Beaver (eBeaver) by retrofitting their de Havilland DHC-2 Beaver with MagniX's electric propulsion technology. The partnership, which McDougall calls the marrying of "laptops and wrench twisters" resulted in the first fully-electric flight within just 9 months!
To take this a step further, they have teamed up with H55 to develop high-density modular battery technology for the eBeaver. The three partners are also working with Transport Canada to certify the eBeaver commuter airplane through a supplemental-type certificate program.
Recently, the National Aeronautics and Space Administration (NASA) partnered with MagniX to learn from Harbour Air's eBeaver model. With this learning, NASA aims to introduce electric propulsion technology in the US aviation fleet by 2035.
Electrification - the road ahead
The biggest challenge to electrification of aviation is convincing regulators about its viability and safety, states McDougall. Since the technology remains relatively new, regulations need to be adapted to accommodate it. With everyone looking for low-carbon innovations in the aviation sector, there are willing partners on all sides to help give electric technology the necessary push. The British Columbia government has invested $1.6 million to help Harbour Air develop their electric seaplanes. However, they are yet to receive any support from the Federal Government of Canada.
Another challenge is the energy capacity of the batteries. McDougall explains that they are already working on a prototype that will increase the available battery energy by 50%.
The infrastructure for charging batteries, however, needs to be scaled up. With the growing market for electric cars, McDougall remains optimistic about the evolution of the charging station infrastructure. He hopes that two years from now technology would have evolved enough to enable Harbour Air to fly their first paying passenger flight.
Carbon neutrality & Offsetting
Harbour Air was one of the first airlines to go carbon neutral as early as 2007. Their dedicated offsetting program enabled them to make the environmentally conscious move. McDougall explains that most voluntary offsetting programs burden the customers with their high costs. As a consequence, their uptake remains low. Harbour Air's offsetting program mandatorily weaved the offsetting price into the tickets. This enabled them to implement their program with an initial hike of only about a dollar in their ticket prices!
The offsets Harbour Air invests in are tangible, measurable and verifiable. McDougall, however, is quick to admit that offsets are not perfect in the long run but provide a good short-term solution.
"...at the very least, a regional airline needs to be looking at what's going to happen with that [disruptive technologies], and what's available for them to transition to it. Because it's going to happen, and if they're not offering it, somebody else will"
Advice to regional airlines
McDougall explains that electrification of aircraft is only possible for short-haul flights at the moment. For regional airlines that fly within a 600 mile range, hybrid aircrafts are more viable. He advises these airlines to always be on the lookout for newer, disruptive technologies to avoid being blindsided.
McDougall encourages regional airlines to leverage their position to fly electric with a negligible carbon footprint. He also emphasises that it is vital to prove the safety of the technology to get more people on board. He hopes this will help push aviation in a more sustainable direction.
Our take: The battery challenge
With the aviation sector set to grow by about 3% per annum for the next two decades, it is imperative to find low carbon solutions to achieve the 2050 sustainability goal. Electric aircraft are a promising alternative but the technology is still at its nascent stages.

Batteries play a vital role in electric aircraft. Airplanes require high energy density batteries to operate. Energy density refers to the amount of energy a battery can store in proportion to its weight. 

According to a study, an Airbus A320 or Boeing 737-sized aircraft capable of 600 nautical miles would require an energy density of about 800 Wh per kg. This, Viswanathan and Knapp (2019)

state, is about four to five times higher than the energy density of most battery packs. Meeting this high energy demand would inevitably require bigger, heavier batteries that would weigh more than the required take-off weight. This makes electric planes suitable only for short-haul travel.

Harbour Air's test flight is proof that electric planes are possible. However, making them mainstream requires a lot of work on the technological and regulatory fronts.

There needs to be dedicated support to make the technology economically viable and suitable for use. Technology, as McDougall states, is ever-evolving and Harbour Air's dedicated efforts give one hope about the future of electric aircraft. 
---
Our Sustainability in the Air podcast is powered by SimpliFlying which has been helping build trust in travel for over a decade.
This season of the podcast is brought to you by CarbonClick, leaders in managing carbon offsetting programs for top global airlines.
1
Viswanathan, V. and Knapp, B. M. (2019). Potential for electric aircraft. Nature Sustainability, 2(2), 88–89. doi:10.1038/s41893-019-0233-2