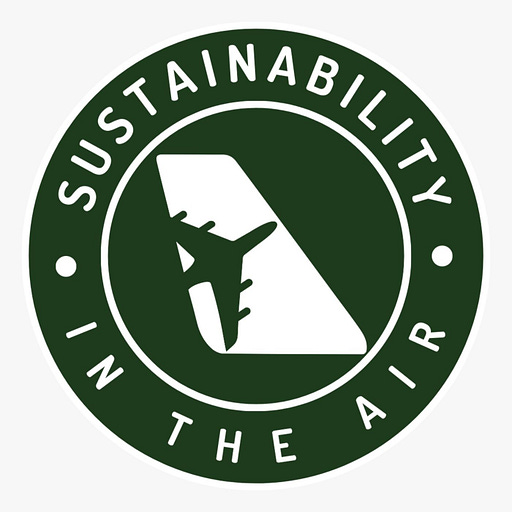 Aug 10 • 43M
The airline aiming for net zero 22 years before the industry target
In this episode, we talk to Maarten Koopmans, Managing Director of KLM Cityhopper
Every week, Shashank Nigam, the CEO of SimpliFlying, talks to airline, airport, travel and technology executives to help make sense of the many paths to net zero, for an industry that is one of the hardest to decarbonize. Whether you're a frequent flier, an airline executive or just love travelling, if you care about sustainable global travel, then welcome aboard.
In this episode of our 'Sustainability in the Air' podcast, Maarten Koopmans, Managing Director of KLM Cityhopper, speaks with SimpliFlying CEO Shashank Nigam about KLM's bold gambit in utilising regional aviation as a testbed for its overall sustainability strategy.
KLM Cityhopper (KLC), the regional subsidiary of the Dutch airline KLM, has an ambitious and focused vision for reaching net zero this decade itself. While discussing the sustainability challenges in the aviation industry, Koopmans acknowledges the significant role of climate activists and changing consumer behaviours. He stresses the importance of people, particularly the young generation, in driving change and encourages them to join companies like KLM. Most importantly, Koopmans makes the case for narrowing one's focus in order to achieve tangible results.
"In real life, transitions take a long time to kick off, and we are at the point where it's beginning to happen… and we'd like to be at the forefront of it."
Here are the key highlights of the conversation: 
How KLM Cityhopper is making regional flights more sustainable (2:07)

KLC's 2028 net zero goals (8:23)

SkyTeam's Sustainable Flight Challenge (10:17)

KLC's slowest airspeed flight with the shortest time gate-to-gate (11:49)

Is there enough sustainable aviation fuel to decarbonise aviation? (20:44)

Dealing with climate activism and climate conscious consumers (30:52)

Hopes for the future of aviation (35:12)

Rapid Fire! (37:33)
Keep reading for a quick overview of the episode.
---
---
Why a focused vision matters
1. Buckling down on Bold Moves 
While Covid-19 battered airlines, KLM used this time to address sustainability head on. In 2021, they created the ambitious Bold Moves project, when Koopmans and a group of like-minded executives started what he calls "a movement within KLM."
The Bold Moves initiative, originally comprising 15 members, eventually expanded to 100. The team formulated a sustainability-focused program named The Fairline, intended for testing through KLM's subsidiaries. Inspired by the innovative divisions in Disney and Nike, they identified KLM Cityhopper as the suitable candidate. 
Another of these bold moves led to the Sustainable Flight Challenge. KLM wanted to create a competitive, yet completely cooperative, playing field to test new initiatives and persuaded the SkyTeam Alliance to run it across multiple airlines.
(Learn more about the Challenge in our podcast episode with SkyTeam CEO Patrick Roux.)
2.  Making KLC the poster child of KLM's sustainability efforts
According to Koopmans, leading these efforts through Cityhopper serves three purposes.
First, short-haul flights, which are potential candidates for train replacements, face the most demand to cut down their environmental footprint.

Second, it's easier to make short routes more sustainable.

Third, not every short-haul route can be effectively replaced by train.
This focused approach will enable KLM to set bolder goals. Koopmans mentions that KLM Cityhopper aims for carbon neutrality by 2028 – 22 years before the industry's target of 2050, all depending on the availability of Sustainable Aviation Fuel (SAF).
3. Redirecting SAF into Cityhopper
The 2028 targets for KLC are established on the basis of their existing fleet, excluding any future technology prospects. Achieving this ambitious goal, according to Koopmans, will largely depend on SAF.
While Cityhopper flights constitute 55% of KLM's total flights from Schiphol airport, due to their short-haul nature they account for less than 10% of KLM's total fuel expense.
KLM is contemplating directing most, if not all, of its SAF supply towards Cityhopper's operations. As of 2023, KLM uses 1% SAF in all its flights departing Amsterdam Schiphol airport. While this percentage may seem low, KLM is considering funnelling this – as well as future supplies – to KLC. This could increase it enough to operate all Cityhopper flights solely on SAF. Koopmans sees this as crucial to achieving carbon neutrality by 2028.
Five radical opinions on airline sustainability
1. Short-haul flight bans may be myopic
While there are ongoing talks across the EU about possibly prohibiting short-haul flights, Koopmans argues that this sector of air travel can be preserved. France has already banned air travel on routes that can be travelled in under 2.5 hours by train earlier this year.
Koopmans illustrates that there could be distances where taking a train is not always the greener choice. Additionally, there are certain routes where rail alternatives are simply not practical.
For instance, Koopmans mentions that a train journey from the Netherlands to Trondheim – a route covered by Cityhopper – would be nearly impossible. Nevertheless, KLM is simultaneously working on an air-rail product for city pairs where it works well.
2. SAF will be largely synthetic in the future
While the shortage of SAF poses a challenge for numerous airlines, KLC is optimistic about securing enough SAF to meet their net-zero objectives.
For example, a study by the International Council of Clean Transport (ICCT) in 2021 stated that there are only sufficient resources to produce approximately 3.4 million tonnes of advanced SAF annually, catering to a mere 5.5% of the EU's estimated jet fuel demand in 2030. 
Nonetheless, KLM's strategic location in a SAF hub, bolstered by supportive regulatory measures, puts them at an advantage. Koopmans anticipates the future of SAF will be largely synthetic, sourced from renewable energy like solar and wind.
However, these sectors need to be driven by demand. He foresees a future, 20 to 30 years from now, where green energy is so abundant we won't know what to do with it, but acknowledges that this abundance doesn't exist today.
3.  Airlines should have stringent standards for SAF
KLM and KLM Cityhopper uphold rigorous standards for the SAF used in their operations. They aim to ensure that the entire lifecycle of the SAF they employ is sustainable and does not harm biodiversity. For instance, all SAF used by KLM complies with the guidelines set by the Roundtable of Sustainable Biomaterials (RSB). RSB's rules aim to limit indirect land use, a common issue where land intended for food production is replaced by biomass production. 
Koopmans highlights that KLM has consistently led the pack in implementing stringent SAF regulations. When he first served as Head of Environmental Strategies at KLM in 2006, the airline was actively collaborating with the EU to establish regulations for SAF.
When asked why KLM would want to make regulations harder for themselves, Koopmans says: "Because these are the goals that we have set for the SAF that we want to use, and if we make it difficult for ourselves, I want to make it difficult for everyone."
4. Electric aircraft could be a solution – but not yet
KLC is vigilantly observing emerging innovations in aircraft technology, yet they're not prepared to commit to any single solution. Currently, Cityhopper's fleet predominantly comprises Embraer aircraft, including 18 Embraer E2 planes. Koopmans mentions that Cityhopper is in dialogue with companies such as Maeve – a Dutch startup working on a 44-seater electric aircraft – to explore potential future fleet solutions.
At the moment, however, Koopmans thinks that there is still not enough consensus to know the right solution for new aircraft. "There's so much discussion on where this will go. So I'm anxious to be in that space but honestly I don't know where it's going right now."
5. Support from customers might be the missing piece of the puzzle
Koopmans emphasises that KLC is doing everything possible to enhance their sustainability, but they now require public support to facilitate this transition. The Netherlands is a stronghold of environmental activists, some of whom believe that the airline industry should be entirely dismantled.
Koopmans contends that these radical voices in activism have served as an essential wake-up call. Criticism from activists triggered the realisation that airlines can't stick to the status quo.
As a result, apart from initiatives like fleet renewal, eco-piloting and upscaling SAF, KLM is also working with partners, knowledge institutes and governments to come up with solutions and innovations to decarbonise their operations. 
Koopmans is optimistic about the future as he observes that people are more and more ready to support the energy transition. For example, already more than 100 corporate and cargo clients support KLM in buying SAF.
---
Thanks for listening to Sustainability in the Air! Subscribe for free to receive our updates straight in your inbox.
---
'Sustainability in the Air' is the world's leading podcast dedicated to sustainable aviation. Through in-depth conversations with top aviation leaders, we break through the clutter and provide a clear roadmap for a net-zero future.