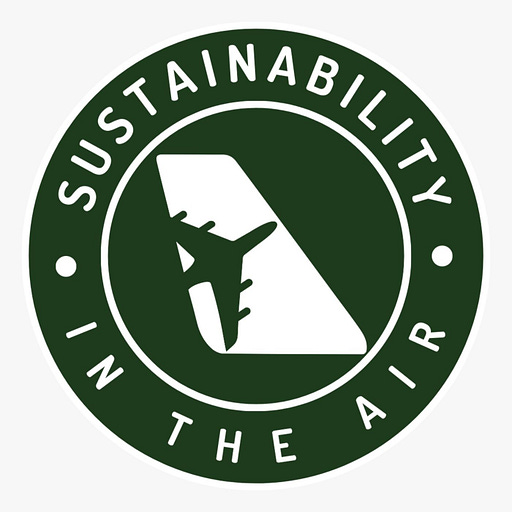 Jun 22 • 50M
KLM wants to prove that sustainability can be good for business
In this episode, we talk to Zita Schellekens, KLM Royal Dutch Airlines' SVP Strategy & Sustainability
Every week, Shashank Nigam, the CEO of SimpliFlying, talks to airline, airport, travel and technology executives to help make sense of the many paths to net zero, for an industry that is one of the hardest to decarbonize. Whether you're a frequent flier, an airline executive or just love travelling, if you care about sustainable global travel, then welcome aboard.
In this episode of our 'Sustainability in the Air' podcast, KLM Royal Dutch Airlines' SVP Strategy & Sustainability, Zita Schellekens speaks with SimpliFlying CEO Shashank Nigam and shares why integrating sustainability into the fabric of aviation is critical.
How KLM is introducing intermodal services (3:37)

How KLM balances growth and sustainability (7:10)

The challenges with Sustainable Aviation Fuel (SAF) (12:02)

Learnings from the Sustainable Flight Challenge (23:52)

Do governments have a role to play in sustainable aviation? (30:23)

Integrating sustainability into the business (37:36)

Rapid fire! (44:07)
Before she joined KLM, Schellekens served as Sustainability Director at DSM. She is also a member of the Royal Schiphol Group's Sustainability Advisory Board, and has had a long career working in politics. At KLM, Schellekens focuses on the transition to sustainability and emphasises the importance of a cultural and mindset shift to accelerate it.
---
---
Why a multi-faceted strategy matters:
Aviation currently contributes an estimated 2.5% of global CO2 emissions. With the demand for air travel on the rise, this percentage could rise to 22% by 2050
if business as usual continues.
KLM is at the forefront of climate action and aims to be a catalyst for change in the aviation industry:
The airline has inter-modal codeshares with Thalys and NS Dutch Railways and buys seats on train routes between Brussels and Amsterdam to reduce the number of flights.

With a list of 44 planet-friendly decisions, the airline is consciously making moves which might even be to the detriment of profits. e.g. to reduce emissions, KLM no longer carries extra fuel – known as economic fuel tankering – even when it might save costs.  

In 2022, KLM used 0.8% SAF in its fuel mix, and aims to increase it to 10% SAF by 2030.

KLM came up with 130 new ideas for SkyTeam's Sustainable Flight Challenge (TSFC) — which was inspired by KLM's Bold Moves initiative. Initiatives included: using 50% SAF, lighter materials for cargo, serving vegetarian meals, encouraging passengers to pack lightly and optimising the flight path to use the least amount of fuel.

KLM's approach to sustainability comprises a short-term (2030) and a long-term strategy (2050). The near-term goal, approved by SBTi, aims for a 30% reduction in CO2 emissions by 2030. The long-term strategy leans on investments in breakthrough technologies to get to net zero by 2050. 

Schellekens emphasises the importance of learning and listening and the need to balance sustainability ambitions while being honest about the difficulties and dilemmas of the journey. She believes that criticism from climate activists is an effective reality check for airlines, and can also lend helpful insights. 
5 ways KLM is catalysing sustainable transitions
1. Balancing growth and sustainability
Schellekens emphasises the need for a balanced approach to sustainability that considers economic, social, and environmental dimensions. She believes that sustainable practices can lead to efficient operations and create better market opportunities. 
"It's a bit of an old paradigm that the only way to grow is to grow unsustainably. I don't think that's true. I believe businesses can do good. I think there's a lot of potential to do both, and prove to the world that we can. It's not going to be easy, it's going to take a lot of time. But I don't believe it's impossible."
2. Multi-Faceted Strategy: 
Going green in aviation requires a multi-faceted strategy. KLM's net zero journey is underpinned by two goals – a near-term 2030 strategy and a long-term plan until 2050:
Near-term (2030): KLM has set a near-term target in accordance with the Science Based Targets initiative. The airline aims for a 30% reduction in CO2 emissions (compared to 2019) and a 12% absolute reduction in carbon footprint, says Schellekens. A mix of fleet renewal, improved operational efficiencies, and increased sustainable aviation fuels (SAF) usage are the primary tools KLM is employing to achieve the target.

"You have to think of everything – it can be catering on board, it can be about flight operations, flight plans and routing. It can be whatever the staff wears; it can be really small things or really big things," Schellekens states.
Long-term (2050): Schellekens believes that the breakthrough in aircraft technology beyond 2030 will catalyse aviation's true decarbonisation journey. Encouraging innovations like electric and hydrogen aircraft is crucial to get to net zero, she explains.

"A lot of manufacturers and bright minds at different universities are working on breakthrough solutions that we desperately need in order to get to net zero. We can't get there with just operational efficiency. And we don't think just buying SAF is going to be enough either," says Schellekens.
3. 44 planet-friendly decisions that are challenging for business: 
KLM has identified 44 measures to further their sustainability agenda — prioritising the planet over profits. For example, KLM no longer practises economic fuel tankering, wherein an airline carries extra fuel from a departing airport where fuel is cheaper. While this avoids refuelling and saves costs, it results in nearly 457,000 additional tonnes of CO2 emissions per year!
"If you bring additional fuel to a destination, that is a negative weight, and it's not sustainable. So even though for the bottom line of the company it was best to continue the practice, we decided from a sustainability perspective to stop doing that."
4. Role of Government and Policy:
Government support and favourable policies play a significant role in promoting sustainability in aviation and spurring market demand. For example, the European Union's ReFuelEU Aviation regulation requires jet fuel suppliers and airlines to scale SAF uptake for all flights departing from EU airports. The mandate is set at 2% of overall fuel supplied by 2025, and will grow to 70% by 2050.
Governments can also support the innovation ecosystem by providing incentives and grants to further accelerate the transformation towards sustainable aviation. 
"I think it's about being strict in some instances, and also providing the right tools for the ecosystem to really take off at the same time," says Schellekens. "I believe that governments can make a huge difference in setting the right framework to change the way in which we do business."
5. Importance of Partnerships and Collaboration:
Sustainability efforts can be significantly catalysed through partnerships and collaborations. Recently, KLM announced a partnership with AeroDelft to build and test a hydrogen-powered aircraft. Called Project Phoenix, the collaboration is expected to offer important insights about the application of hydrogen in aviation, including the design of liquid hydrogen tanks and crucial safety features.  
"We're betting on all the innovations that are out there because we will be needing all of them. And it's too soon to say which one will really succeed."
Moreover, KLM aims to use at least 10% SAF in its fuel mix by 2030 — a big jump from the 0.8% used in 2022. The airline has a partnership with SkyNRG to build a dedicated facility for SAF production, and has also committed to a 10-year, 75,000 tonne per year SAF order for 10 years. The airline also has offtake agreements with fuel producers like Neste and DG Fuels. In addition, the carrier supports smaller SAF companies through letters of intent to help them get more investment. 
"We want to work with all stakeholders in the value chain to push the market demand and increase SAF supply. And hopefully, once there's more supply, the price will also come down."
Thanks for listening to Sustainability in the Air! Subscribe for free to receive our updates straight in your inbox.
---
'Sustainability in the Air' is the world's leading podcast dedicated to sustainable aviation. Through in-depth conversations with top aviation leaders, we break through the clutter and provide a clear roadmap for a net-zero future.
This episode is a part of our SkyTeam special series. In this series, we will highlight SkyTeam member airlines participating in The Sustainable Flight Challenge and bringing sustainability into flight operations today.
1
Dolšak, N., Prakash, A. (2022) Different approaches to reducing aviation emissions: reviewing the structure-agency debate in climate policy. Clim Action