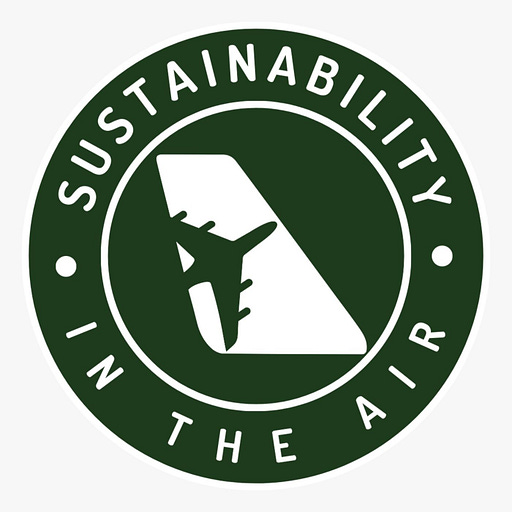 Sep 7 • 49M
How we created the most successful podcast on sustainable aviation: Behind the scenes
In this episode, we shine a light on the inside story of how this podcast is produced.
Every week, Shashank Nigam, the CEO of SimpliFlying, talks to airline, airport, travel and technology executives to help make sense of the many paths to net zero, for an industry that is one of the hardest to decarbonize. Whether you're a frequent flier, an airline executive or just love travelling, if you care about sustainable global travel, then welcome aboard.
Over a year ago, driven by curiosity and keen to decode the complex challenge of decarbonising aviation, we launched 'Sustainability in the Air', the world's first podcast on sustainable aviation. 
Through conversations with industry insiders, up-and-coming technology companies, academics and researchers, we aimed to build a scaffolding upon which a more sustainable future could be built.
To date, we have featured 19 technology firms, 15 airlines and 11 industry organisations. The response has been overwhelming – across a grand total of ~36 hours of audio interviews and 65,000+ published words, our episodes have been downloaded over 26,000 times and have been heard in 106 countries!
For our 50th episode, we decided to shine a light on the inside story of how this podcast is produced and brought to you by the SimpliFlying team.
We hope you enjoy listening to today's episode as much as we loved putting it together!
Here are the key highlights of the conversation: 
Introduction to the team and origins of the podcast (3:59)

The production process (8:33)

Upcoming book on sustainable aviation

Recommended episodes (17:41)

What gives us hope for the future? (26:56)

Rapid Fire! (31:35)

Vision and future of the podcast (41:38)
Keep reading for a quick overview of the episode.
---
---
What happens behind the scenes
It bears no repetition that the podcast has been a fun learning experience.
The 50 episodes have not only helped us understand the sustainable aviation landscape better, they have also provided insights that have helped us improve and streamline our process.
While we once focused solely on the podcast questions and content, we have now broadened our focus to improve audio quality, audience engagement and distribution. Our articles have also been sharpened to bring you essential insights from each episode if you prefer the written word or don't have the time to listen to the episode.
Here's how we do it week after week after week:
5 episodes that inspire the team
Apart from discussing unique features like innovative visual branding and insightful articles that replace traditional transcripts, the team also recalls some of their favourite and most insightful episodes.
1. John Pagano, Red Sea Global 
Recommended by Shubhodeep. 
John Pagano, CEO at Red Sea Global, explains how the company is developing an expansive regenerative tourism site, roughly the size of Belgium. Despite this vast area, they plan to develop only 1% of it to increase its conservation value.
Their commitment to sustainability includes one of the world's largest solar microgrids for 24/7 renewable energy. They also plan to limit visitors to a maximum of 1 million annually – an ecological ceiling to preserve the environment. Using artificial intelligence and machine learning, they aim to enhance the conservation value of the area by 30% over the years. 
2. Gregory Constantine, AIR COMPANY
Recommended by Dirk.
Dirk mentions SimpliFlying's new book titled "Sustainability in the Air", written by Dirk and Shashank, which is anticipated to launch in November. A unique aspect of the podcast is that it has hosted several of the innovators who will be featured in this forthcoming book. 
One of the standout innovators is Gregory Constantine, Co-Founder and CEO of AIR COMPANY. This e-fuels venture is pioneering in its approach to producing sustainable aviation fuel. They harness captured carbon dioxide and green hydrogen for this purpose.
Interestingly, before delving deep into aviation fuel, they used their innovative process to produce consumer goods like vodka and perfume. This was both a proof of concept and a clever marketing strategy, demonstrating the versatility of their technique. AIR COMPANY has since expanded their horizon to industries like jet fuel and collaborated with space giants like NASA to explore potential space fuel opportunities.
3. Adam Goldstein, Archer
Recommended by Dirk.
Another mention-worthy individual is Adam Goldstein, Founder and CEO at Archer Aviation, a company that's pushing the boundaries in the realm of electric air taxis, also known as eVTOLS (electric vertical take-off and landing aircraft).
The concept of eVTOLs often invites scepticism, with many critics questioning their feasibility and future ubiquity. However, Goldstein's unwavering passion and conviction in the project set him apart. He embodies the infectious enthusiasm and vision that characterises many successful startup founders. For Dirk, these two innovators exemplify the progress being made in sustainable aviation. 
4. Adam Durant, SATAVIA
Recommended by Ayushi.
Adam Durant from SATAVIA explains contrail formation, their impact on the environment, and SATAVIA's technology that can help airlines reduce contrail formation. This brought the podcast journey full circle – our inaugural episode had featured Tony Douglas, then CEO of Etihad, who discussed their collaborative work with SATAVIA on contrail reduction.
Interestingly, only persistent contrails formed by about 5% of flights truly impact the climate. SATAVIA's software uses complex weather models to predict contrail formation and helps airlines adjust their flight plans.
5. Tony Douglas, Etihad
Recommended by Shashank.
In the first episode of our podcast, Tony Douglas, former Group CEO of Etihad, shares how the airline is paving the way for the entire industry to move a step closer to net zero.
This episode helped kick off a journey that grows more fascinating each day. The episode is worth revisiting to see how Etihad's Greenliner and ecoDemonstrator programme and engagement with SATAVIA continue to show the way forward for sustainable aviation. 
What does the future look like?
In the closing rapid fire segment, Dirk asks Shashank about his outlook on aviation's 2050 net zero target. Drawing upon his 15 years in aviation, Shashank compared the initial reticence of airlines to embrace social media in the late 2000s to their present approach to sustainability. Citing instances such as United Airlines' Sustainable Aviation Fuel (SAF) fund and the joint efforts of aviation competitors, he expressed a belief in a greener future for aviation.
During his rapid fire answers, Dirk champions Bloomberg's "Zero" podcast and singles out an episode on Apple's "Extrapolations" series. Discussing sustainable aviation technology, Dirk expressed enthusiasm about the potential role of hydrogen, particularly for long-haul flights, acknowledging its challenges but also its potentially transformative influence.
We are very grateful to our guests, listeners and readers for their support, encouragement and cooperation. A special shout-out to our sponsors, both past and present, who have championed our podcast since day 1 – CarbonClick, Cirium, and our current sponsor, Travelport.

We are also grateful to Christy Sarkis, Mira Alden-Hull, Pavel Bogomolov, Hailey Findlay and Rhys Waters for their invaluable contributions in shaping the podcast.
---
Thanks for listening to Sustainability in the Air! Subscribe for free to receive our updates straight in your inbox.
---
'Sustainability in the Air' is the world's leading podcast dedicated to sustainable aviation. Through in-depth conversations with top aviation leaders, we break through the clutter and provide a clear roadmap for a net-zero future.
This episode of the podcast is brought to you by Travelport, a global technology leader that powers bookings for travel suppliers worldwide. Their travel retailing marketplace, Travelport+, empowers travel retailers to understand and communicate the most sustainable travel options.