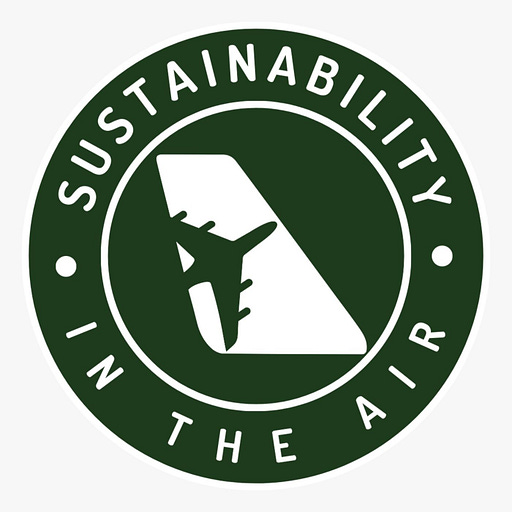 Apr 20 • 48M
Virgin Atlantic's 100% Sustainable Aviation Fuel gambit
In this episode, we talk to Holly Boyd-Boland, Virgin Atlantic's VP Corporate Development and Sustainability.
Every week, Shashank Nigam, the CEO of SimpliFlying, talks to airline, airport, travel and technology executives to help make sense of the many paths to net zero, for an industry that is one of the hardest to decarbonize. Whether you're a frequent flier, an airline executive or just love travelling, if you care about sustainable global travel, then welcome aboard.
Welcome to Season 3 of Sustainability in the Air, the world's first podcast dedicated to sustainable aviation. Through in-depth conversations with top aviation leaders, we break through the clutter and provide a clear roadmap for a net-zero future.
---
With few options at hand to decarbonise, aviation's most promising solution remains sustainable aviation fuels (SAF). Flights powered by sustainable fuels, however, have mostly been reliant on SAF blends of varying percentages. Fully 100% SAF operations have been rare or conducted on one engine only. 
Later this year, Virgin Atlantic will conduct the world's first net zero transatlantic flight using 100% SAF. If all goes well, it could set the stage for much cleaner flying by the end of this decade.
In this episode of our 'Sustainability in the Air' podcast, Virgin Atlantic's VP of Corporate Development and Sustainability, Holly Boyd-Boland speaks with SimpliFlying CEO Shashank Nigam, and shares how the airline is preparing to conduct the historic 100% SAF flight with its partners; the existing regulatory and technical challenges with procuring, producing and using SAF; and other pathways to net zero by 2050. 
You can listen and subscribe to our podcast on all major podcast platforms or read our deep dive into the episode below.
If you're rushed for time, you can also directly jump to your topic of interest by referring to these timestamps:
Planning for the historic trans-atlantic 100% SAF flight (2:55)

Barriers and regulatory issues with SAF usage (7:24)

Understanding the impact of contrails (10:25)

Partnership with Air Company (13:47)

Various pathways to procuring SAF (16:09)

Corporate SAF programme (18:58)

Who should pay for greening the airline? (23:56)

In-cabin sustainability (27:58)

Should there be a frequent flyer tax? (32:02)

Virgin Atlantic's eVTOL strategy (34:05)

Can supersonic be sustainable? (37:34)

How the airline is targetting net zero (39:22)

Rapid fire! (42:10)
---
SAFely flying into a green future
In December 2022, Virgin Atlantic (VA) announced that it would attempt the world's first transatlantic net zero flight run on 100% SAF. Currently, SAF is approved for use in all aircraft, but only in blends of up to 50% with conventional jet fuel. As a result, while SAF blends have been used by various airlines – including up to 100% in one engine by United and Emirates in demonstration flights – VA's long-haul flight from London to New York is expected to be the true mould-breaker. 
Boyd-Boland says the flight, preparation for which is underway in full force, is expected to fly in the fourth quarter of 2023. "Where we are in the programme now is focusing on the fuel testing and certification," she explains. "That's kind of the gateway for us to move from the fuel side to the engine testing and the airframe testing to get us to the right safety and regulatory approvals to operate the flight."
The flight will be operated by one of VA's Boeing 787 Dreamliners, powered by Rolls-Royce Trent 1000 engines. According to reports, Virgin will acquire around 60 tonnes of HEFA fuel with a 12% synthetic aromatic content, of which 45-50 tonnes will be used for the transatlantic flight and the remainder for testing and approvals purposes.
VA's 100% SAF flight is made possible due to VA winning UK government funding of £1 million – an incentive offered under the government's Jet Zero strategy to decarbonise aviation. The airline has put together a consortium with six partners – Boeing, Rolls-Royce, Imperial College London, University of Sheffield, ICF and Rocky Mountain Institute (RMI) – and is forming up to seven working groups for this highly challenging project. 
Boyd-Boland insists that VA is steadfast in its goal of achieving net zero emissions by 2050. As a result, given the limited decarbonise levers at aviation's disposal, SAF gains exceptional importance. "We are de facto relying on sustainable aviation fuel to deliver 40% or more of the emission reductions we need to achieve as an industry by 2050," she explains. "And when you put that in context for VA, a long-haul only operator, then we care about SAF even more."
In fact, VA has supported SAF for many years now – in the past year itself it has announced multiple partnerships. These include an agreement with Neste and ExxonMobil to supply SAF at London Heathrow as well as a huge agreement to purchase 70m US gallons of SAF from Gevo, in partnership with Delta Air Lines. Boyd-Boland points out that securing the supply of SAF is an important step towards the airline's target of 10% SAF by 2030. She also emphasises the airline's industry leadership in this sphere – VA was the first airline to operate a flight on biofuel way back in 2008; in partnership with Lanzatech, the airline also operated the first commercial flight using SAF in 2018.
The historic flight later this year, says Boyd-Boland, is to demonstrate that today's engines and airframes are capable of flying safely at 100% SAF for long-haul flights. "I think if we are successful in delivering that, then we're moving closer to demonstrating that the technical barriers to 100% use of SAF can be overcome", she muses. "And then we'll need to come back to consider how to get to scaled production and supply in order to meet that requirement." 
Carbon capture as a potential SAF pathway
In September 2022, VA announced it would acquire up to 100 million gallons of SAF from Air Company, an innovative carbon capture startup. Air Company has made its name by turning captured carbon dioxide into vodka and perfume.  Now it wants to turn the same input into clean aviation fuel. (Listen to our podcast with Air Company CEO and Co-Founder Gregory Constantine.) 
For Virgin Atlantic, Air Company's appeal is two-fold. First, their technology is futuristic. Essentially, it is a third-generation power-to-liquid (PtL) SAF startup. The second factor, Boyd-Boland explains, was the uniqueness of Air Company's approach to the problem by disrupting the consumer market through their vodka and perfume and testing the underlying technology. The ability to think through a consumer lens appealed to the airline.
"We recognise there are multiple pathways to SAF, there are multiple technologies, and there are different risks and opportunities in each of those," explains Boyd-Boland. "So when we think about how to procure SAF to get to 10% of overall fuel usage by 2030, we're probably not alone in looking to diversify across a portfolio."
"By the time we get to 2030, we will expect 10% of our fuel from SAF to equate to about 50 million US gallons. At 10 million gallons per annum, our partners will account for 20% of that target. That's about 2% really of the overall fuel mix."
Corporate SAF programme
In 2022, Virgin Atlantic launched a SAF programme to help its corporate customers manage their emissions. The program utilises comprehensive internal data modelling to analyse historic travel data — like the route travelled, aircraft and cabin information —  to accurately estimate the carbon footprint. Corporate customers can then purchase SAF and take action to reduce their footprint. 
The corporate programme also spurs industry collaboration on SAF. "If we meaningfully want to see change, deliver action and demonstrate that we're following through on the commitments to get to net zero by 2050, collectively, we need to send the right demand signals to support the production and scale up of SAF," says Boyd-Boland. 
It's worth noting that VA's corporate programme fully covered the additional expenses for its SAF commitments last year. This enables them to contract additional volumes of sustainable fuel, building further momentum for its demand.
Our Take
SAF is widely believed to be the most promising – and currently available – carbon reduction solution for the aviation industry. However, the transition to SAF has been painfully slow  — it remains in short supply and prices are exorbitantly high. 

In a previous episode, Dan Rutherford from the ICCT explained that SAF production using bio-feedstock has also been linked to food security issues. Increasing SAF demand could divert food crops for its manufacturing, resulting in reduced food supply and high prices, invariably hurting the poor and marginalised. In the EU, diverting food crops to manufacture SAF has also been linked to higher import of palm oil from Southeast Asia. (Palm oil production in SE Asia is notorious for causing extensive deforestation and destruction of tropical rainforests.) 

Rutherford is not alone.  ZeroAvia CEO Val Miftakhov also remains sceptical and believes that airlines' over-reliance on SAF is ironically unsustainable. He believes there isn't enough feedstock and that the costs of SAF production are too high to be feasible.

In such a scenario, Virgin Atlantic's agreement to procure SAF from Air Company might offer a potential solution that does not rely on feedstock. After all, air is arguably infinite and can be mined for carbon dioxide indefinitely. However, the Power to Liquid (PtL) process has its sceptics because it is extremely energy intensive and likely to be more expensive than producing biofuels. 

As Virgin Atlantic embarks on its trans-Atlantic flight later this year to demonstrate the feasibility of a 100% SAF-powered long-haul flight, a lot remains to be done to scale SAF production. Promoting SAF supply requires regulatory support and concerted efforts across the aviation industry. Even though there are notable collective efforts, systems inherently resist change. Moving away from older technologies (jet fuels) requires incentives and can take quite a bit of time to produce results.
---
Our Sustainability in the Air podcast is powered by SimpliFlying which has been helping build trust in travel for over a decade.
This season of the podcast is brought to you by Cirium and CarbonClick. As a sustainability partner, Cirium helps the aviation industry gain a much clearer view of carbon emissions and develop methods to reduce them, enabling on the industry promise to fly sustainably. CarbonClick is the industry leader in managing transparent carbon offsetting programs for individuals and top global airlines.